LeT behind blasts in Jammu and Kashmir's Rajouri, 2 operatives arrested
Ahead of the annual Amarnath pilgrimage, the Jammu and Kashmir Police on Tuesday claimed to have solved recent blasts in Kotranka and Budhal areas of the Rajouri district with the arrest of two Lashkar operatives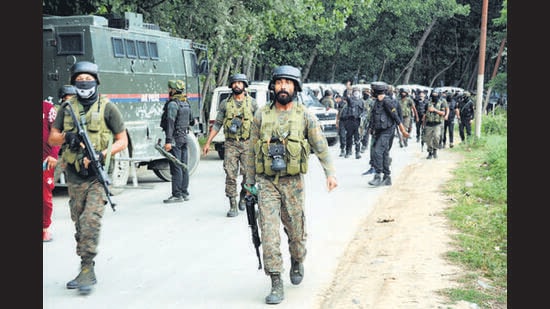 Published on Jun 29, 2022 03:04 AM IST
Ahead of the annual Amarnath pilgrimage, the Jammu and Kashmir Police on Tuesday claimed to have solved recent blasts in Kotranka and Budhal areas of the Rajouri district with the arrest of two Lashkar operatives.
The police have announced a suitable reward for clues leading to the arrest of Lashkar-e-Toiba commander Talib Shah, the brain behind recent terror activities in twin border districts of Rajouri and Poonch districts.
The police have launched searches for Talib Shah.
"A huge cache of explosive material, including five improvised explosive devices (IEDs), was recovered at the disclosure of the LeT operatives", additional director general of police (ADGP), Mukesh Singh said.
Two explosions had rocked Kotrana town of Rajouri on March 26 and another on April 19, leaving two persons injured.
On April 24, another blast in Shahpur-Budhal had injured two more persons were injured.
"Working on leads, joint teams of Rajouri Police and the 60 Rashtriya Rifles (14 Sector) conducted multiple raids and search operations at various locations in Larkoti, Targain, Jaglanoo and Draaj areas of Rajouri and apprehended two suspects, Mohammad Shabir and Mohammad Sadiq of Draaj-Budhal village," Singh said.
During the investigation, it came to the fore that three accused Talib Shah, also of Draaj village of Budhal area, Shabir and Sadiq were involved in these incidents of blasts, he said.
The ADGP informed that the three individuals, working on the directions of their Pakistan-based handlers, received weapons, ammunition, and explosives and later used these IEDs to trigger blasts.
He said, "it surfaced during a preliminary investigation that the group is headed by Shah, who collected three consignments of arms, ammunition and explosives from the Lamberi-Kalakote area in January, March and April".
"Shabir and Sadiq have been arrested and the third accused (Shah) is absconding. Shah is the commander of LeT in general area Rajouri and the mastermind of all terrorist activities in the Pir Panjal area," he said.
He said Shah has also motivated many youths for carrying out terror activities in Rajouri.
"Shabir and Sadiq were also motivated by Shah to conduct terror activities. Shah has remained instrumental in almost all terror incidents in Pir Panjal districts in last two to three years," Singh said.
The police have announced a suitable reward for anyone sharing credible information leading to the arrest of Shah, he added.
Singh said it was also revealed that this group was sheltering a few Kashmir-based active terrorists of LeT in the general area of Kandi-Budhal and was making efforts to revive militancy in Pir Panjal districts of Rajouri and Poonch.
"This is a big achievement for police and security forces as the blasts had triggered panic in the area and these accused were also planning more such incidents to target security forces. The arrest of two associates of Shah is a big blow to the terror outfit (LeT)," the ADGP said.
During preliminary questioning, he said, the arrested accused disclosed that they had hidden some explosive materials at Draaj forest and subsequently a joint search operation was carried out by police and 60 Rashtriya Rifles, which led to the recovery of five IEDs, five remote controls, 10 fuses and 19 battery cells.
"The accused are also suspected to be involved in some more criminal and subversive activities for which they are being subjected to sustained interrogation. The arrest of Shah is very crucial in solving many militancy and criminal cases that have occurred during the past few years in the Pir Panjal area," Singh said.





Now, cash incentives to pregnant women to be given in 2 instalments:Union minister

Union minister of state for women and child development Dr Mahendra Munjapara on Tuesday said cash incentives given to pregnant women under the Pradhan Mantri Matritva Vandana Yojana will now be given in two instalments instead of three, and women will also be given a cash incentive of ₹6,000 on the birth of a second girl child.






2 suspected OGWs of militants killed in Jammu and Kashmir's Kupwara

Two suspected overground workers (OGWs) of militants were on Tuesday shot dead by the Army near the Line of Control (LoC) in Kupwara district of Jammu and Kashmir, police said. Police say weapons and narcotics were recovered from the slain persons. They are believed to have come to receive a cache of arms and narcotics and facilitate infiltration of militants, they said.




Woman ASI arrested for taking ₹4 lakh bribe in Karnal

An assistant sub-inspector was arrested on graft charges after The accused, Sarita Rani, who was posted at the Sector 32 and 33 police station, was caught accepting ₹4 lakh for dropping a rape and dowry case lodged against a man and his son. Inspector Sachin of the Vigilance Bureau said, "Initially, the ASI had demanded ₹8 lakh to settle the case. She was caught red handed while accepting ₹4 lakh as bribe." The complainants said they also suspected the involvement of two other senior police officials.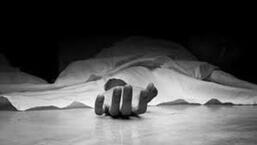 Dog enters hospital in Panipat, kills newborn
A stray dog mauled a newborn boy to death at a private hospital in Panipat on Tuesday morning. According to police, no one noticed the dog entering the hospital. It turned out that the dog had taken him outside and mauled him, the SHO said, adding that the newborn was declared dead by the doctors. The newborn's family hails from Uttar Pradesh. His mother had come to Panipat for delivery, the SHO said.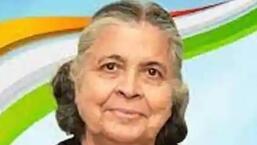 Kangra Congress leaders bury the hatchet, meet over dinner
Senior Congress leaders in Kangra appeared to have buried their hatchet and met over dinner in Palampur on Monday night resolving to put up a united fight against the ruling BJP in the upcoming general assembly elections. It was for the first time ever since the new Himachal Pradesh Congress committee (HPCC) took over that the Kangra leaders gathered at one place.
Personalise your news feed. Follow trending topics