IAF officer echoes BJP on Kashmir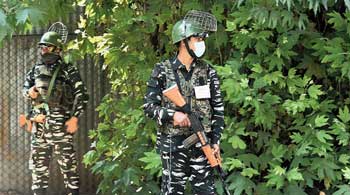 Senior Indian Air Force officer Air Marshal Amit Dev on Wednesday blamed the intervention by United Nations for helping Pakistan take over a part of Kashmir, appearing to echo the BJP's claim that first Prime Minister Jawaharlal Nehru was responsible for ceding territory.
Air Marshal Dev was here to commemorate the 74th anniversary of the air force landing on October 27, 1947, which came a day after Kashmir's then Dogra ruler Maharaja Hari Singh acceded to India.
"If the UN had not intervened, perhaps entire Kashmir would have been ours," Air Marshal Dev said in Srinagar, without making any reference to Nehru.
Nehru had approached the UN in December 1947 for intervention in the Indo-Pakistan war in Kashmir, although the ceasefire was not effective for another 13 months till January 1949.
Air Marshal Dev then said that PoK (Pakistan-occupied Kashmir) would someday return to India. "All the activities which were carried out by the Indian Air Force and the (Indian) army resulted in ensuring freedom of this part of Kashmir," Air Marshal Dev, who heads the Western Air Command, said. "I am sure that someday, Pakistan-occupied Kashmir will also join this part of Kashmir and we will have the whole of Kashmir in years to come."
Later, in response to queries from reporters, he clarified that India had no plans at the moment to capture PoK but claimed the situation on other side was grim and the people there were not treated fairly.
The officer said celebrating 75 years (74 years) of the Budgam landing of the air force was a historic occasion.
"After the instrument of accession was signed, we moved in our troops quickly and the Srinagar airfield was saved. Thereafter, we launched further offensive and pushed the Pakistani military, which came as Kabalis (tribals), further back," he said.
The BJP-RSS camp keeps accusing Nehru for allegedly ceding a part of Kashmir to Pakistan.
Last year, Union home minister Amit Shah had said Nehru's approach to the UN over Kashmir was a "Himalayan mistake".
Earlier, Prime Minister Narendra Modi had said all of Kashmir would have been India's, if Sardar Vallabhbhai Patel, instead of Nehru, had been allowed to become the first Prime Minister.
Former Congress minister Saifuddin Soz, however, contends in a book that Patel was happy to let Kashmir go to Pakistan in exchange for Hyderabad but Nehru's insistence kept it with India.
Defence spokesman in Srinagar, Colonel Emran Musavi, said in a statement that the Budgam landings are the first military operations of independent India and the defence forces "changed the course of the war". But he did not mention the UN intervention.
"…wherein people and soldiers of State Forces of Jammu & Kashmir and the Indian Army fought alongside valiantly, to evict Pakistani Forces, driving them out of most of Jammu and Kashmir till ceasefire on January 5, 1949," he said, suggesting that forces were free to act for more than a year after Nehru had approached the UN.