India-China: Veterans demand disclosure of disengagement plan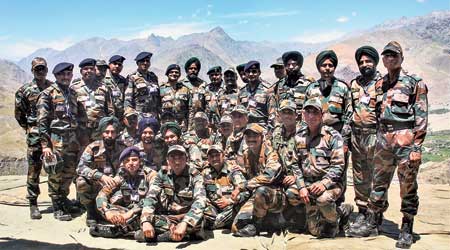 A joint statement released by the defence ministry on Saturday's India-China military talks hides more than it reveals, veterans said, demanding the government disclose the disengagement plan discussed and asking whether it had given up the demand for restoration of status quo on the frontier.
Monday's brief statement, coming almost 44 hours after the 12th round of corps-commander-level talks ended, spoke of "in-depth exchange of views", "enhanced mutual understanding" and "ensuring stability" along the Line of Actual Control (LAC).
But it followed the example of the past several such statements in maintaining silence on any restoration of status quo along the LAC to pre-standoff (April 2020) positions, which India had once insisted was a precondition for bilateral ties returning to normal.
"Does it mean that India has accepted the new status quo and given up the (demand for) restoration of status quo ante?" a retired colonel said.
A retired lieutenant general said: "According to estimates, the Chinese army has taken over close to 1,000sqkm of India-claimed territory since May last year. It's such a grave issue concerning India's territorial sovereignty, but our government is busy hiding more than revealing anything on this."
Sources in the security establishment said the talks had remained inconclusive with the Chinese continuing to resist the Indian demand for disengagement and troop de-escalation from the remaining friction points: Hot Springs, Gogra and the Depsang Plains.
There have been "partial" disengagements from the Galwan Valley and the Pangong Lake, with the Chinese stepping back a few kilometres while still remaining within India-claimed lines, and India retreating by the same distance — thus ceding more territory.
Congress leader Rahul Gandhi on Monday again accused Prime Minister Narendra Modi of ceding territory to China.
"Mr Modi and his minions have ceded thousands of km of Indian land to China. When exactly are we getting it back?" he tweeted.
On June 19 last year, four days after a clash in the Galwan Valley had killed 20 Indian soldiers, Modi had said that no one had entered Indian territory or occupied Indian posts, prompting Beijing to immediately claim ownership of all the areas it held.
The joint statement said: "The two sides had a candid and in-depth exchange of views on resolution of remaining areas related to disengagement…. They agreed to resolve these remaining issues in an expeditious manner in accordance with the existing agreements and protocols and maintain the momentum of dialogue and negotiations."
It said the two sides had noted that the meeting had been "constructive" and "further enhanced mutual understanding".
"The two sides also agreed that in the interim they will continue their effective efforts in ensuring stability along the LAC… and jointly maintain peace and tranquillity."
The security establishment fears the Chinese are working to establish a "revised status quo" that will allow them to hold on to their newly acquired positions within India-claimed lines.
The retired lieutenant general who spoke to this newspaper said the government "should come clean on the specifics of the purported disengagement plan being discussed with the Chinese".
China's hardened stand has triggered apprehensions that the Ladakh frontier could now become a permanently contested militarised zone, similar to Jammu and Kashmir.
Sources said 25 rounds of military and diplomatic talks had taken place since May last year but nothing much had changed on the ground.
Both sides have amassed men and machinery at altitudes of 14,000ft and above, and have deployed 50,000 troops each along the LAC in Ladakh backed by artillery, tanks and missile systems.