Here's Why the Stock of NTPC was in Focus Today
Aug 2, 2021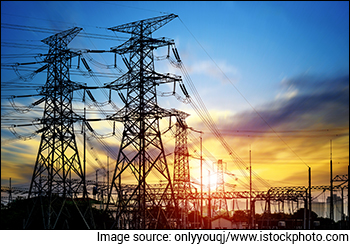 State-run power producer NTPC reported a 17% rise in consolidated net profit to Rs 34.4 bn for the quarter ended 30 June 2021, compared to Rs 29.5 bn in the year-ago period on the back of higher revenues.
Revenue from operations increased to Rs 298.9 bn during the quarter, compared to Rs 261.9 bn in the same quarter of the last fiscal.
The state-run electrical utility's total income in the June quarter stood at Rs 303.9 bn, compared to Rs 267.9 bn, registering a growth of 13.4% year on year (YoY).
For the quarter, NTPC faced a spike in input costs which resulted in operating profits fall by 8.7% in the quarter despite higher revenues.
For example, the fuel cost was up 22% on YoY basis while the other expenses were higher by 18% YoY.
NTPC's power generation and coal supply improved
NTPC saw gross power generation in the June quarter this fiscal rise to 71.7 billion units (BU), as against 60.2 BU in the same period a year ago.
Meanwhile, the company's domestic coal supply for its plants in the first quarter stood at 45.8 m tonnes, up from 40.2 m tonnes in the same quarter last year.
NTPC's coal production from captive mines during the June quarter rose to 2.5 m tonnes from 2.4 m tonnes in the same period a year ago.
— Advertisement —
REVEALED: 3 "Super Smallcaps" You Didn't Know About
You may not have heard of these 3 "super smallcaps" ever before…
The mainstream press doesn't cover them… Most brokers don't know about them either…
Stock like these 3 "super smallcaps" only come to your notice when they have rallied by hundreds or even thousands of percent… and are all over the news!
However, thankfully, our top analyst Richa Agarwal is ready to reveal their details at her Super Smallcaps Summit on 11th August…
Coal imports of the firm rose to 0.5 m tonnes in June quarter from 0.2 m tonnes in the year-ago period.
The company's plant load factor (PLF) or capacity utilisation of coal-based power plants also increased to 69.7% in the June quarter this fiscal, up from 68.2% in the same period a year ago.
Average power tariff stood at Rs 3.73 per unit in April-June quarter of 2021, down from Rs 3.98 per unit in the same period a year ago.
Company gets approval to raise funds
NTPC's board of directors approved a fundraising proposal of up to Rs 180 bn through private placement in the domestic market, according to a regulatory filing by the company to the stock exchanges.
It will raise funds through the issue of secured or unsecured, redeemable, taxable or tax-free, cumulative or non-cumulative, non-convertible debentures (Bonds/NCDs) in one or more tranches, not exceeding 30, through private placement in domestic market.
NTPC Renewable Energy calls bids for setting up green hydrogen fueling station in Leh
State-owned NTPC Renewable Energy (NTPC REL) has called bids for setting up a green hydrogen fueling station in Leh as part of its green mobility plans.
This comes in the backdrop of India's largest power generation utility's subsidiary inking a pact with the union territory of Ladakh to setup a green hydrogen mobility project in the region.
NTPC's plans includes running five hydrogen buses, to start with and setting up a solar plant and a green hydrogen generation unit in Leh for the same. The sale of bid documents commenced from 31 July 2021.
NTPC also plans to set up India's largest solar park of 4.75 gigawatt (GW) at Rann of Kutch in Gujarat from where it will also generate green hydrogen on a commercial scale.
Watch Now: 3 Little-known Stocks We are Super Bullish On
This comes in the backdrop of India's green hydrogen push wherein the union government is considering a proposal to make it mandatory for fertiliser plants and oil refineries to purchase green hydrogen as part of plans to cut the nation's dependence on fossil fuels.
As part of its energy transition efforts, India is working towards electrification of economy by developing action plans for greening of electricity.
NTPC plans to list NTPC Renewable Energy. The PSU has also announced its target of 10% reduction in net energy intensity as part of its energy compact goals.
Note that Indian power sector is undergoing a significant change. This has redefined the industry outlook. Sustained economic growth continues to drive electricity demand in India.
The power exchanged in India is about 4.5% of the overall power production, as can be seen in the chart below.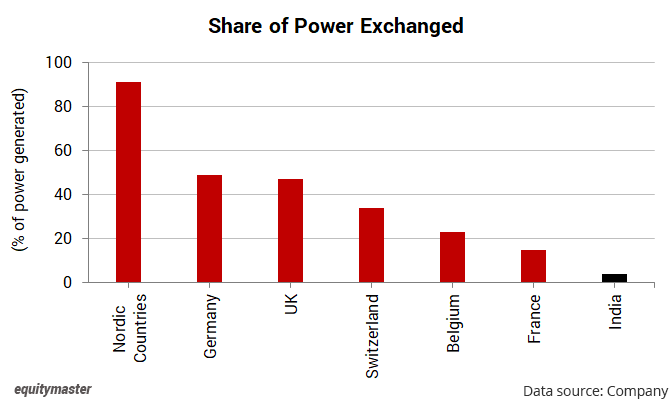 As per Tanushree Banerjee, Co-Head of Research at Equitymaster, India's power sector is currently in transition. It's driven by increasing reliance on short-term contracts and electricity spot markets.
This transition to the short-term market is happening due to quickly evolving industry dynamics.
Tanushree believes the Indian power sector will see a surge in spot power volumes due to certain factors.
In August 2020, Tanushree recommended a high-quality stock from this space. Subscribers can read the report here (requires subscription).
If you are not a StockSelect subscriber, here's where you can sign up.
How the stock markets reacted to NTPC
Shares of NTPC opened the day at Rs 119 on the BSE and Rs 118.6 on the NSE.
At the time of writing, the company's shares were trading down by 0.8% on the BSE.
At its current price, it is trading at a P/E of 8.9.
The share touched its 52-week high of Rs 122 and 52-week low of Rs 78.1 on 19 July 2021 and 15 October 2020, respectively.
Over the last 30 days, the NTPC share price is up 0.6%. Over the last one year, the company's share price is up 34.2%.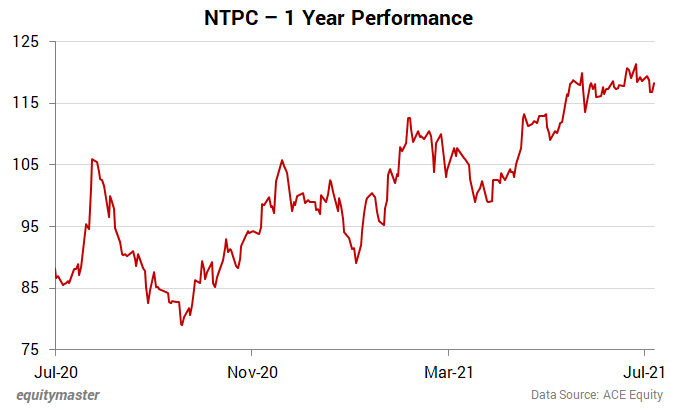 About NTPC
NTPC, formerly known as National Thermal Power Corporation, is an Indian government electricity board engaged in the business of generation of electricity and allied activities.
It's a company incorporated under the companies Act 1956 and is under the ownership of ministry of power, government of India.
The headquarters of the company is situated at New Delhi.
NTPC's core business is the generation and sale of electricity to state-owned power distribution companies and state electricity boards in India.
The company also undertakes consultancy and turnkey project contracts that involve engineering, project management, construction management, and operation and management of power plants.
It has also ventured into oil and gas exploration and coal mining activities.
It's the largest power company in India with an electric power generating capacity of 62,086 megawatts (MW).
NTPC currently operates 55 power stations (24 coal, 7 combined cycle gas/liquid fuel, 2 hydro, 1 wind, and 11 solar projects).
For more details about the company, you can have a look at NTPC factsheet and quarterly results on our website.
You can also compare NTPC with its peers.
NTPC vs Gujarat Industries Power
To know what's moving the Indian stock markets today, check out the most recent share market updates here.
Disclaimer: This article is for information purposes only. It is not a stock recommendation and should not be treated as such. Learn more about our recommendation services here…