'Xi was sending a message'
'When you look at the border — from Ladakh to Arunachal — which is called the Sino-Indian border, but in effect it is actually the Indo-Tibet border.'
'Since the borders are still not secure, it has resulted in transgressions in Galwan, Dokalam etc.'
"India needs to be more assertive about dealing with Tibet. Its Tibet policy should not be in consultation with China."
'Tibet is the crux for India-China relations in the long run," says Tenzin Lekshay, spokesperson for the Central Tibetan Administration, the Tibetan government in exile.
In an interview with Rediff.com's Archana Masih, Tenzin Lekshay discussed US Secretary of State Antony J Blinken's meeting with His Holiness the Dalai Lama's representative Ngodup Dongchung in Delhi and why a resolution of the Tibet issue is crucial to a peaceful Indo-China border.
US Secretary of State Antony Blinken met His Holiness the Dalai Lama's representative Ngodup Dongchung in Delhi.
What does this mean for the Tibetans and Tibetan cause?
We are all very happy. His Holiness the Dalai Lama and the Tibetans have been living in India for over 60 years. Taking into consideration US bipartisan and public support on Tibet, we appreciated that Secretary Blinken met us. It gave us an opportunity to thank him for the US support.
Secretary of State Blinken has high regard for His Holiness as was evident from his tweet on His Holiness's birthday. It is a recognition of His Holiness' lifelong commitment to universal human rights, non-violence, Ahimsa and peace.
The meeting signifies that the US government recognises the efforts by His Holiness for universal peace and Ahimsa.
What message does it have for China?
China has to be truthful on the Tibet issue.
Not only did Antony Blinken meet the Dalai Lama's representative, but when the US deputy secretary of state [Wendy Sherman] visited China in July, she spoke about the human rights violations inside Tibet.
If China wants to be a great power, it cannot negate the aspirations of the Tibetan people. The message to China is to be truthful and give Tibetans their fundamental human rights — right to freedom of religion, freedom of movement, freedom of expression.
Universal freedom is lacking in Tibet. China must abide by universal human rights and freedom.
The ball is in China's court to accomplish the aspirations of the Tibetan people.
China should resume the dialogue between the representative of the Dalai Lama and Chinese leaders to resolve the Sino-Tibetan conflict.
How unsettled is the Tibetan community about Xi Jinping's visit to Tibet?
Xi visited Lhasa and tried to de-associate Tibet from Tibetans.
China has occupied Tibet and ruled it forcefully and brutally for the last 70 years, but they claim it was a 'peaceful liberation'.
If China claims it was a peaceful liberation, then why do they still talk about establishing stability and unity in Tibet? There is a big gap in their policies, including on Tibetan Buddhism.
Tibetan Buddhism came from India in the 7th century. It doesn't rely on China, but the Chinese government and Chinese Communist party says that Tibetan Buddhism came from China.
They try to keep the authority of Tibetan Buddhism on their side with the hope that they can use it for political gain.
This is not to serve the Tibetan people, but their own selfish political needs.
Chinese leaders should have the wisdom to understand the real issues of Tibet.
Xi's visit to Lhasa and the eastern part is an opportunity for him to see and understand the real Tibet.
We have to wait and see how he will act — whether according to the aspirations of the Tibetans or in favour of CCP which would mean a continuation of repression and hardline policies.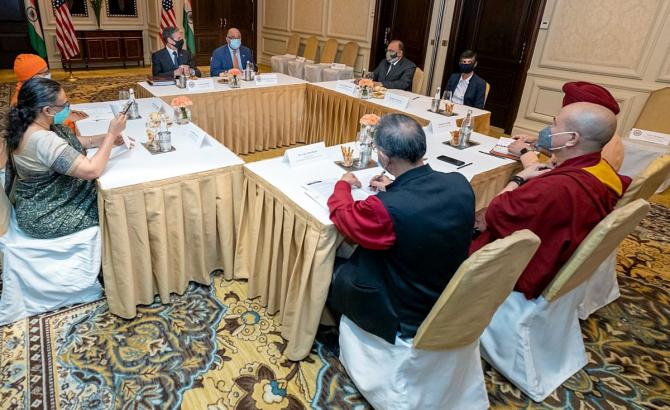 Xi's delegation to Tibet included the vice chairman of China's central military commission. He also visited Nyingchi which borders Arunachal Pradesh. What signal was he sending to India?
This is not the first time Xi has visited Nyingchi. Every 10 years, the Chinese leader comes to Tibet to celebrate the so called 'peaceful liberation'.
This is the 70th anniversary and Tibetans don't see it as peaceful liberation but forceful occupation of Tibet.
Ten years ago, as vice president Xi had come to Lhasa and Nyingchi.
The Tibet issue is important for China. Securing the border is a priority for China and to do that Xi needs to transform the border.
Nyingchi is an example where they have already transformed the border area — the airport directly connects with Beijing and other places. Recently they started the railway line from Lhasa to Nyingchi — Xi himself travelled by that train.
They have all the infrastructural facilities to secure the borders.
Xi was conveying a message that all other border areas should be like Nyngchi. That will create an uneasiness among Indians because it is close to India.
When you look at the border — from Ladakh to Arunachal — which is called the Sino-Indian border, but in effect it is actually the Indo-Tibet border.
The Indo-Tibetan border stretches to 3,488 kms.
Since the borders are still not secure, it has resulted in transgressions in Galwan, Dokalam etc.
The border issue is very complex and many observers believe that it is not going to be solved. Xi himself is not interested in seeing a solution to the border dispute?
China has to understand the aspirations of Tibetans and resolve the border issue. Once they do that, the border will be much more peaceful. The [Indo-China] border problem will remain as long as the Tibetan conflict remains.
India has to look at that angle.
The 1987 five-point peace plan of His Holiness calls for the demilitarisation of the Tibetan plateau. If that were to happen, it will end the border conflict.
China rejects that proposal. If China resumes dialogue and resolves the Tibet issue, there is a possibility of a peaceful border.
Prime Minister Modi wished His Holiness on his birthday this year. Was it unexpected?
It is a welcome gesture. His Holiness has been a guest of India for the last 60 years. He is seen as an apostle of peace.
The Tibetan people thank PM Modi for wishing His Holiness on his 86th birthday.
His Holiness has met with all the PMs of India. It shows that the Tibet issue is important for India.
It is a recognition of the Dalai Lama's lifelong commitments not only for Tibetans, but for all humanity.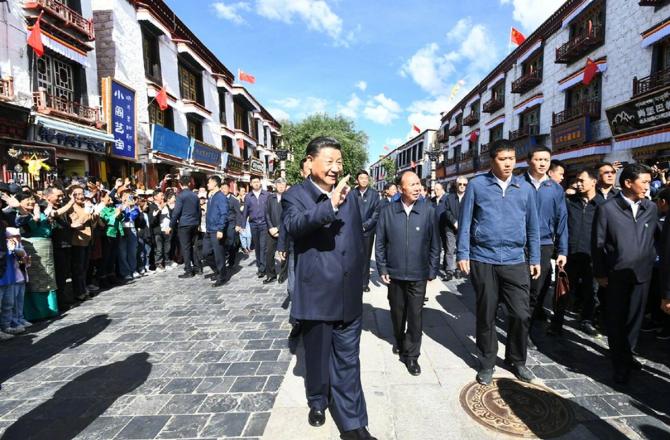 What have been some of the significant changes in India's Tibet policy over the years?
The question is if India really has a policy on Tibet. We know India has a policy on China, but we are not sure if India has a policy on Tibet.
We are grateful to the Indian government and the people for giving us all the support for the past 60 years, but India needs to be more assertive about dealing with Tibet.
Its Tibet policy should not be in consultation with China. We Tibetans want the two great nations and two old civilisations to be real friends based on trust.
Tibet is the crux for India-China relations in the long run.
But since about 2008 India has stopped referring to Tibet as a part of China. Previously all joint statements said that Tibet was a part of China. Isn't that a policy change?
There have been changes according to circumstances over the years. India should assert about Tibet in its relationship with China.
If the Tibetan issue is not resolved, India's border tension with China will remain.
Chinese leaders should have the wisdom to resolve the issue.
If they are willing to share goodwill with India and show the world their benign face, then Tibet is the litmus test.
Only if China resolves the Tibet issue can it earn respect in the world. If it continues with what it is doing in Tibet, Mongolia, Hong Kong, Taiwan etc, China will not earn respect in the world.
Feature Presentation: Aslam Hunani/Rediff.com