The pandemic is making people prefer camping over luxury stays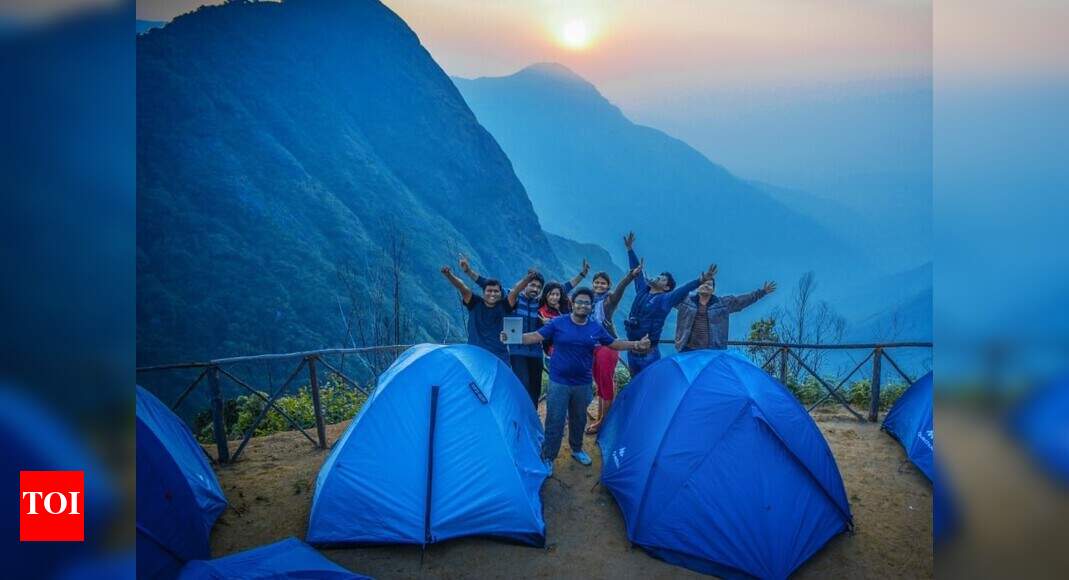 For the past few months, illustrator Bhavya Desai has had an eye-opening routine, which he swears by. With camping gear in the trunk of his car, he sets off to Pulicat Lake, where he spends his day fishing, swimming, interacting with the fisherfolk and camping under the stars. Bhavya is not alone in his quest. The pandemic has paved the way for smaller, local camping episodes that are giving luxurious resorts a run for their money.
The rawness of the experience is one of the reasons why millennials pick these experiences over hotels. "Nothing is set in stone. We sometimes spend hours fishing on the boat with no luck. If you do the same at a resort next to the beach, the hoteliers will make sure you come back to your room with a fish on your hook since you have paid good money for the same. I head to Pulicat every month to just switch off from work and reflect on things. It is addictive to explore your roots," he smiles.

One for the little joys
The pandemic made Natasha realise the little joys that come along with understanding different existences. Camping also shakes people up from living a sedentary lifestyle, the self-portrait photographer adds. "When you take these resorts for instance, all you do is stay inside and relax, which is what we have all anyway been doing during the lockdowns. During camping for instance, you are actively involved in setting up everything right from your food to your shelter," observes Natasha, who joins Bhavya and friends at Pulicat to catch the sunrise and make fish curry by the beach.
Aravind Sushanth, who recently went on a month-long trip to the Himalayas, looks at camping as an experience of a lifetime. Aravind and his friend camped at Katagla, a campsite near Kasol, for around two days during their backpacking journey in February. And along the way, many myths about camping were broken.

"A lot of people think camping is hard, but it is actually the opposite. The pandemic pushed me to take up this trip to North India, and I wanted to find out if I was cut out for it myself. And it was absolutely worth it. We camped on a river bank and the joy that it gave us was unparalleled," he says. He suggests that new campers should take their own camping gear to have a unique experience.
Away from four walls

The idea is to also steer clear of being cooped up inside four walls, yet again. "The weather is such that you want to feel closer to nature. Camping also fits into the whole minimalism mantra that a lot of people have developed during these times. A lot of travellers now look at staying within four walls as monotonous," says Jatin Munvar, founder of Plan The Unplanned, a tour company in Bengaluru.

A lot of travellers increasingly want to explore their own city first through these campsites, he adds. Places like Karwar, Kumta and Gokarna are a few favourites among travellers in Karnataka, Jatin adds.
Travellers feel safe outdoors

While camping is ideally a group activity, the pandemic has forced many to opt for exclusive family trips. Manoj of Tent N Trek from Chennai has seen an increase in enquiries for exclusive camp curations in the last few weeks. "Many travellers are preferring camping for the safety that comes with fresh air. And with these intimate camping trips with just family, they feel much safer," he adds. Ooty, Coorg, Thekkady and Kodai are a few favourites that people keep going back to, he notes.

Family camps apart, workcation camps are becoming popular. "I've seen a huge difference in people's perceptions on travelling. With workcations starting as low as `5,000, people prefer working amidst nature rather than from big hotels," Manoj says, "Earlier, many would be hesitant about the discomfort of camping outdoors. But all this time indoors has made us realise how much we have taken nature for granted."
The underrated joy of picnicking

There is yet another phenomenon that the pandemic has made possible. It is the return of the good ol' picnic. Preethi, a marketing techie and an avid traveller, began taking small picnics to spots around Karnataka. Avalahalli Forest range, Chota Ladakh and the Devanahalli Fort are a few spots she has picnicked at in the last few months.
"Prior to the pandemic, whenever we got time, we used to go to restaurants or pubs to socialise with friends. It was as if we didn't even know anything else apart from these millennial templates for hanging out. But now, we are trying to get as close to nature as possible. When you pack a potluck and have a meal with your friends in the midst of a hill or by the river, it is a great experience. Travelling is a lot more fulfilling this way. There are no pressures or expectations and it has become an underrated joy," she beams.


Are you a first-time camper?

Here are a few things to keep in mind:

n Camp at a place where you have access to washrooms

n Pack mosquito repellent and sunscreen

n Have backup ready-to-eat food like instant noodles, tea bags

n Be ready to take back your trash
n Pack lots of water

Source