Lockdown to be imposed in more areas of Islamabad amid spike of COVID cases
Published On 01 August,2021 07:49 pm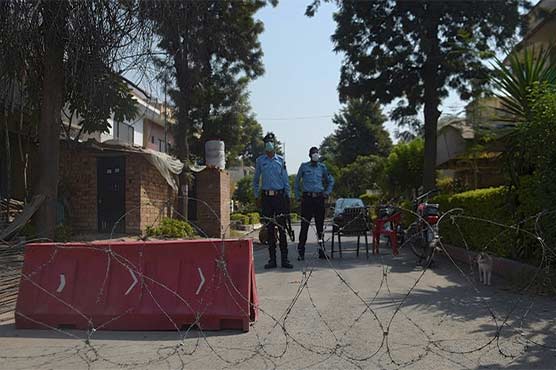 Lockdown to be imposed in more areas of Islamabad amid spike of COVID cases
ISLAMABAD (Dunya News) – The authorities on Sunday decided to impose lockdown in more areas of Islamabad due to surge of Covid-19 cases.
According to the sources, people in the affected areas will be quarantined in their homes. In the first phase, 2,294 people affected by COVID have been quarantined in their homes.
Meanwhile, the police have been deployed to stop the movement of Corona patient outside their homes.
It was also reported that 27 streets in Islamabad have been completely sealed off in view of coronavirus.
According to a statement of the district administration, other areas would also be sealed as the ratio of the cases continued to rise.
On the other hand, Pakistan had reported 62 deaths in the last 24 hours by novel coronavirus as the number of positive cases has surged to 1,034,837. The nationwide tally of fatalities has jumped to 23,422.
According to the latest figures by the National Command and Operation Center (NCOC) 5,026 persons tested positive for COVID-19 in the past 24 hours.
Punjab remains the worst-hit province in terms of deaths followed by Sindh and Khyber Pakhtunkhwa.
Till now 11,059 individuals have lost their lives to the epidemic in Punjab 6,001 in Sindh, 4,462 in KP, 803 in Islamabad, 625 in Azad Kashmir, 328 in Balochistan, and 144 in GB.
Furthermore 382,865 coronavirus cases have been confirmed in Sindh, 356,920 in Punjab, 144,264 in Khyber Pakhtunkhwa, 87,699 in Islamabad, 30,432 in Balochistan, 24,501 in Azad Kashmir and 8,156 in Gilgit-Baltistan.