NTPC to generate green hydrogen from its new 4.75GW renewable energy park in India
NTPC has been given the go-ahead from the Indian Ministry of New and Renewable Energy (MNRE) to develop a 4.75GW renewable energy park that will also generate green hydrogen.
Set to be built at Rann of Kutch in Gujarat, India, the NTPC has said that this will be the nations largest solar park and intend to generate green hydrogen on a commercial scale to help provide domestic clean energy and expand into the hydrogen market.
Read more: NTPC wants to be India's largest green hydrogen producer
Read more: India investigating hydrogen-powered vehicles in a bid to decarbonise mobility
In addition to this, NTPC has also signed an MoU with UT, Ladakh and Ladakh Autonomous Hill Development Council (LAHDC) for the generation of green hydrogen and deployment of hydrogen fuel cell buses.
As a part of its green energy portfolio augmentation, NTPC aims to build 60GW renewable energy capacity by 2032.
Currently, the state-owned power major has an installed capacity of 66GW across 70 power projects with an additional 18GW under construction.
With the boost to renewable energy capacity and the implementation of green hydrogen production methods, it could see a rapid scale up of hydrogen production methods.
Exclusive webinar: Hydrogen in the Himalayas; H2 View in conversation with NTPC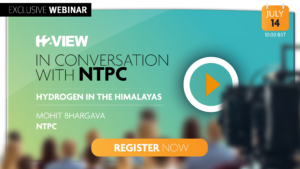 India's top electricity generator NTPC is eyeing the green hydrogen opportunity and exclusively revealed to H2 View in an upcoming webinar its plans to be the "largest green hydrogen producer and provider in India".
The state-owned utility, which generates a quarter of India's power, has embarked upon an aggressive and ambitious renewables journey in which it will move away from coal-based projects in favour of green hydrogen.
NTPC has set a 60GW renewable energy capacity target by 2032, which would constitute nearly 50% of its overall power generation capacity.
Want to continue reading? Click here.