'Imran Khan visits those who have money,' says Maryam during AJK election rally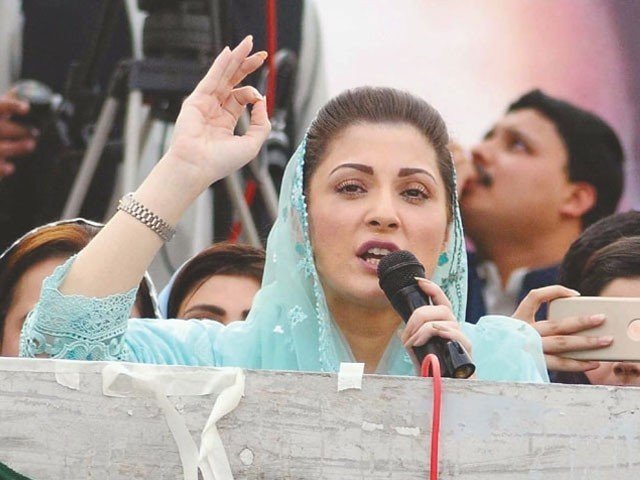 Pakistan Muslim League-Nawaz Vice President Maryam Nawaz has said that the candidate in Bagh, Azad Jammu and Kashmir, was only visited by the ruling party as he is an "ATM machine and [Prime Minister] Imran Khan visits those who have money, not those who are poor."
Addressing her party's election rally in the region, the PML-N leader stated that the ruling party organised a rally because their candidate there has no links with the Pakistan Tehreek-e-Insaf.
"The 'selected', who asks people for their votes wasted the taxpayers' money on the helicopter ride."
"But despite spending millions, they were rejected by the people. You were rejected by the people from Karachi to Khyber." Maryam remarked.
The PML-N leader termed the upcoming AJK elections a "revolution". "July 25 is the day to restore the respect of votes and safeguard them," she added.
Speaking about her father and party chief Nawaz Sharif, Maryam said, "I'm glad that Nawaz Sharif's sacrifices have borne fruit and have not gone to waste".
"Those talking about the minus formula should see how Nawaz Sharif is becoming a plus, plus and plus with every passing day," she quipped.
On the occasion, Maryam also told the people of AJK to not spare anyone who attempts to steal votes.
Moreover, Pakistan People's Party Chairman Bilawal Bhutto Zardari would join the AJK election campaign on the third day of Eid ul Adha after concluding his United States trip, it was learnt on Sunday.
According to sources privy to the details of Bilawal Bhutto's schedule, the PPP chairman would begin the third phase of his election campaign in the AJK from July 23.
"Bilawal Bhutto will attend two public gatherings in Azad Jammu and Kashmir on July 23," they said adding that the first gathering would be in Bagh and the other in Muzaffarabad.
Bilawal Bhutto will further spend the entire election day on July 25 in the AJK and will also visit polling stations to witness the polling process, the sources said.
Aseefa Bhutto-Zardari has been leading the election campaign of the Pakistan People's Party in Azad Jammu and Kashmir in the absence of chairman Bilawal Bhutto-Zardari due to his US visit.
It is pertinent to mention here that the election campaign is in full swing in the region as the polling day nears with Prime Minister Imran Khan, PML-N leader Maryam Nawaz also visiting the AJK and addressing multiple rallies in a day to woo their voters.
with additional input from INP