FM urges people of Azad Kashmir to give chance to Imran's ideology
Published On 18 July,2021 11:26 pm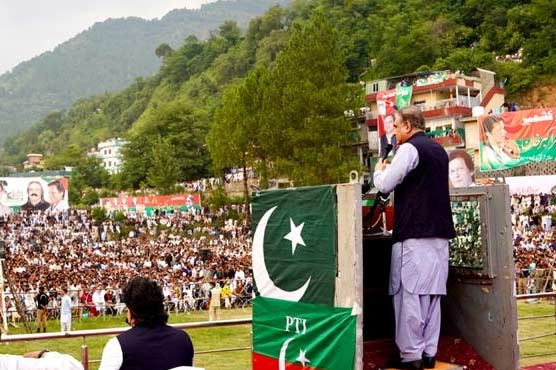 FM urges people of Azad Kashmir to give chance to Imran's ideology
MIRPUR (Dunya News) – Foreign Minister Shah Mahmood Qureshi has requested the people of Azad Kashmir to give chance Prime Minister Imran Khan's ideology.
Addressing a rally of election campaign in Mirpur, the minister said that the AJK people have seen the politics and manifesto of other parties, now it is time to provide chance to Imran Khan s ideology.
Prime Minister Imran Khan was also present on the occasion, while Interior Minister Sheikh Rasheed Ahmed and Pakistan Tehreek-e-Insaf (PTI) Azad Kashmir President and candidate from Mirpur Barrister Sultan Mehmood Chaudhry also addressed the gathering.
Shah Mahmood Qureshi said that the reception of Mirpur has proved that Kashmir is alive because the people of Kashmir have to move towards their destination. "Prime Minister Imran Khan says he will not bow down and will not hold any talks with India without resolving the Kashmir issue and withdrawing the steps taken on August 5," he added.
The minister said that this is Imran Khan who is consistently raising his voice for the Kashmir issue on all other international platforms including UN Security Council. "Today Imran Khan, whose life and death is linked with Pakistan, came to Azad Kashmir. The reception, which is given to Imran Khan, the people of Mirpur proved that the PTI candidates will win with high margin on July 25 in AJK," he mentioned.
"If we want to see the environment of Azad Kashmir today, then look at Pakistani media as well as Indian channels where the point was being made that why PTI stepping foot in Azad Kashmir. Indian media has realized that if the movement of PTI and Imran Khan succeed in Azad Kashmir, their voices will be heard across the Line of Control (LoC)," the foreign minister said.
Addressing on the occasion, Interior Minister Sheikh Rashid Ahmed said that he has a deep relationship with the people of Mirpur. He appealed to the people to vote for Imran Khan.
He mentioned that he had told in Muzaffarabad rally about relation of Lal Chowk with Lal Haveli. "I hope that the people of Azad Kashmir have come to know the faces of those people, one of whom went to get medicine but did not return. His brother and daughter were also following him."
The interior minister said that PM Imran Khan will revive the name of Kashmir in the world in such a way that it will be added in the history. He also urged the people of Mirpur to stamp on the "Bat" a symbol to change their destiny, PTI will win in Azad Kashmir on July 25 and there will be a celebration on July 27.