UK Parliament Witnesses Clash Over By-Election Leaflet Showing PM Boris Johnson – Narendra Modi Handshake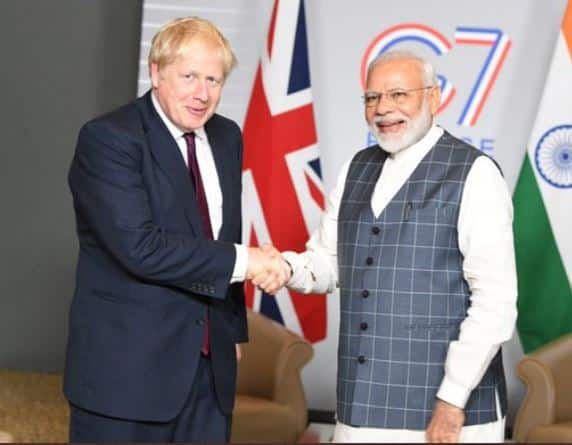 London: UK Prime Minister Boris Johnson and Opposition Leader Keir Starmer locked horns in the House of Commons over a controversial by-election leaflet, which showed the former in a handshake with his Indian counterpart Narendra Modi at the G7 Summit in 2019.
The leaflet had been branded divisive and anti-India by the Indian diaspora groups in Britain.
Demanding the Labour Leader to retract the leaflet used at the recent by-election for the constituency of Batley and Spen in northern England, Johnson held up the leaflet during the heated debate.
READ: Ladakh Standoff: Ready To Seek Mutually Acceptable Solution, China Tells India
"May I ask him now to retract this leaflet I have here that was produced by the Labour party during the Batley and Spen by-election, which was condemned by his own MPs as dog-whistle racism," PTI reported Johnson as saying during the debate over the issue of racism at the Prime Minister's Questions (PMQs) session on Wednesday.
Starmer, however, continued his tirade against the ruling Conservative Party for not fighting back against racist abuse faced by England's footballers on the pitch.
Johnson, in his defence, said nobody defends booing the England side and added they represent the best of our country.
ALSO READ: Drug Overdose Deaths: Record 93,000 People Died In America Last Year
Meanwhile, the Overseas Friends of BJP (OFBJP) group reacted to the same by organising a letter of complaint to Starmer and slammed the vote-bank politics of the campaign leaflet.