In charts | India COVID-19 case count, state-wise trends, vaccination data, and other key details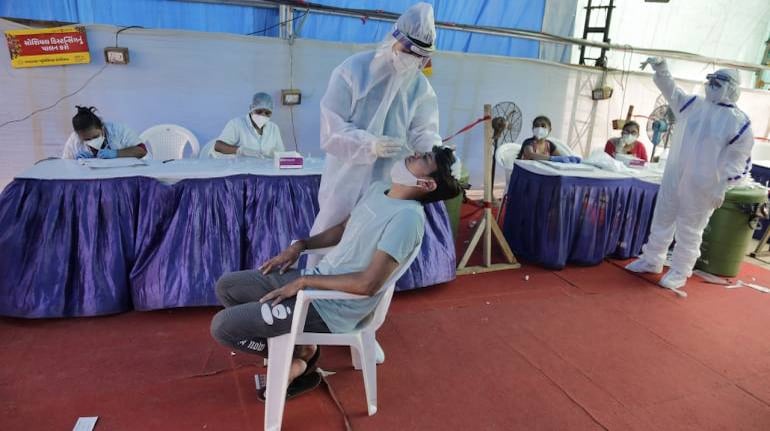 Image: AP
India's COVID-19 case tally is above 3.09 crore with 32,906 new cases reported, as per the health ministry's July 13 update. New cases lowest in 118 days and below 50,000 for the 16th straight day.
As many as 2,020 new deaths were reported in the last 24 hours, new recoveries were at 49,007 in the same period, the latest release showed.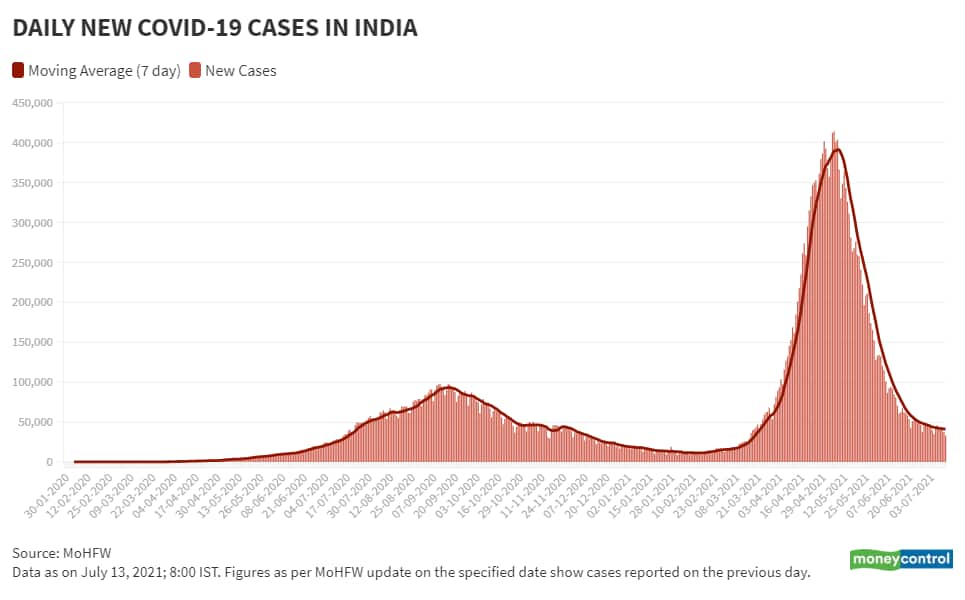 More than 38.14 crore vaccinations have been administered across India, according to the July 13 update, with 40,65,862 new vaccination doses administered on Monday.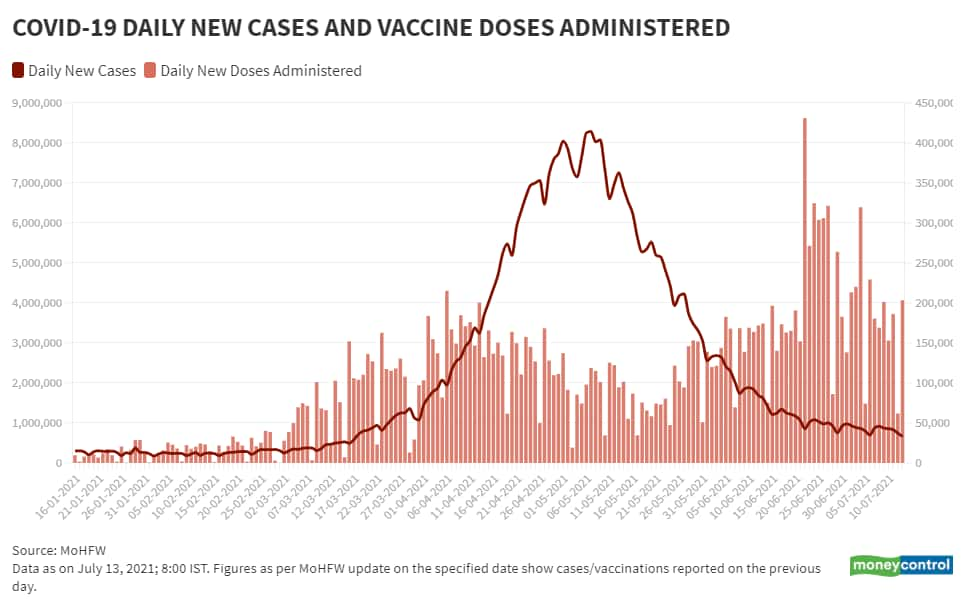 Of the total vaccinations administered to date, 80 percent received the first dose while 20 percent received the second dose. Among states, Uttar Pradesh administered the most (cumulative) vaccine doses at 3.77 crore, followed by Maharashtra at 3.70 crore and Gujarat at 2.81 crore.
India now has 4,32,778 active cases, down 18,121 cases in 24 hours, as per the July 13 update. Maharashtra has the highest number of active cases at 1,11,622 in the country, followed by Kerala at 1,11,578. These two states account for 52 percent of active cases in the country.
Kerala reported the highest number of new cases at 7,798 in the last 24 hours, followed by Maharashtra (7,603), Tamil Nadu (2,652), Assam (2,575) and Odisha (1,993). These five states account for 69 percent of all the new cases reported in India.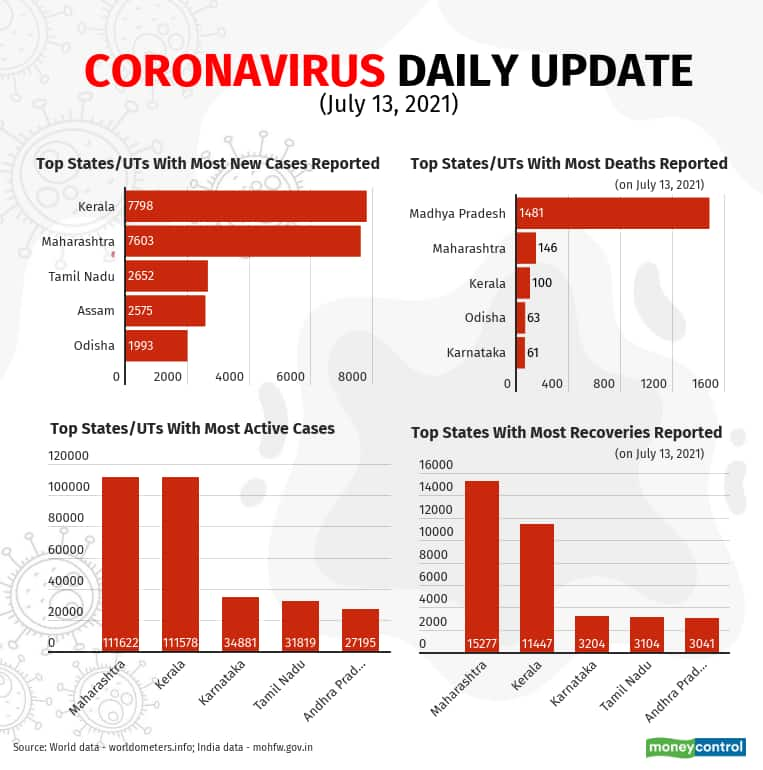 Madhya Pradesh reported the most 1,481 new deaths (1,478 backlog deaths), as per the July 13 update, followed by Maharashtra (146), Kerala (100), Odisha (63) and Karnataka (61).
Andaman and Nicobar Islands, Chandigarh, Chhattisgarh, Dadra and Nagar Haveli/Daman and Diu, Goa, Jammu and Kashmir, Jharkhand, Ladakh, Lakshadweep and Rajasthan did not report any deaths today.
The total recoveries in India now stand over 3 crore with the recovery rate at 97.3 percent. Maharashtra recorded the most 15,277 new recoveries, followed by Kerala (11,447), Karnataka (3,204), Tamil Nadu (3,104) and Andhra Pradesh (3,041).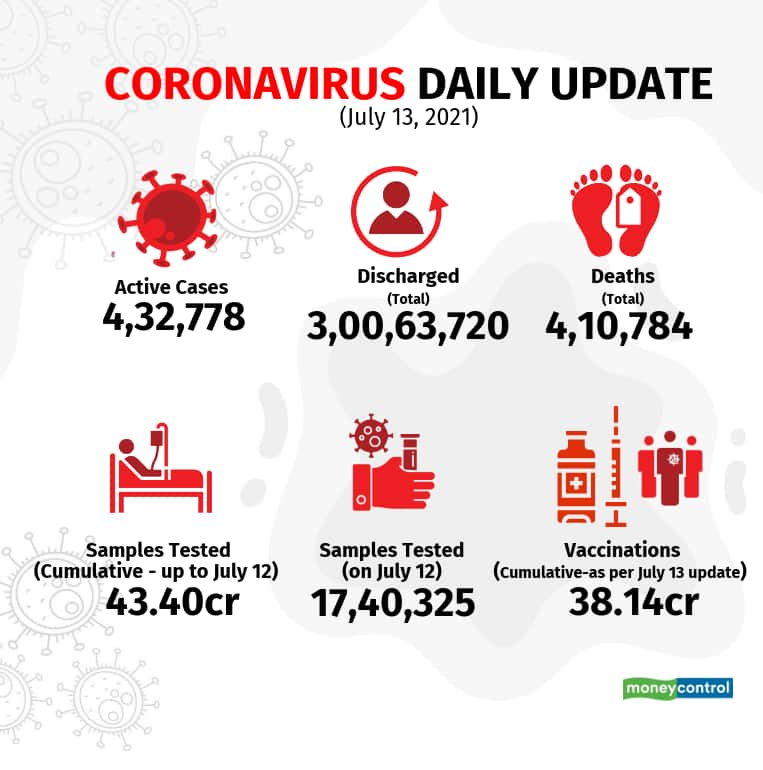 Total COVID-19 deaths in India now stand at 4,10,784 as per July 13 update. The mortality rate is now at 1.3 percent with Punjab reporting the highest (2.7 percent). Over 17 lakh daily tests were reported on July 12 with more than 43.40 crore tests carried out to date.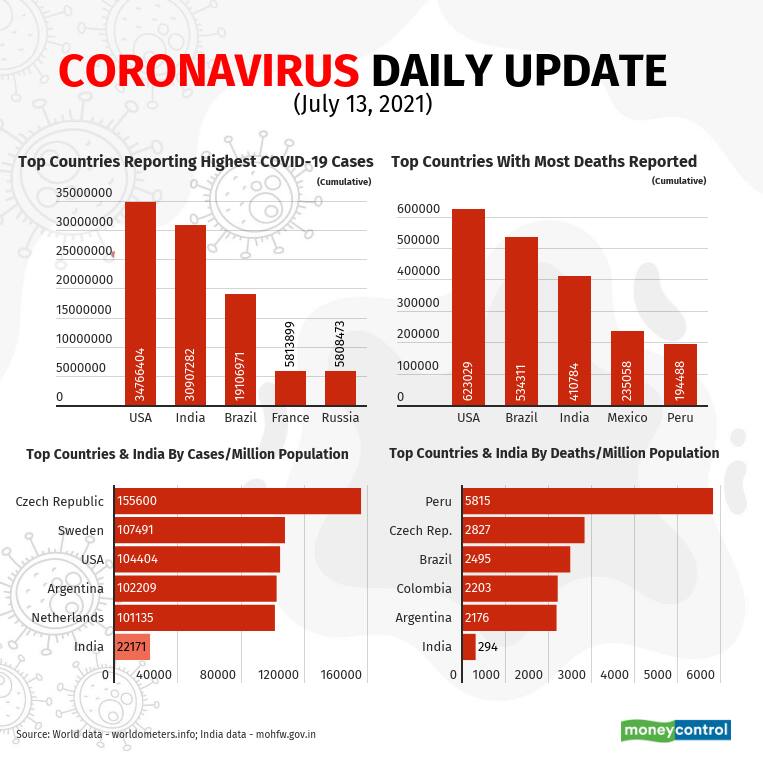 Globally, more than 18.80 crore COVID-19 cases have been recorded to date with over 40.55 lakh deaths. Active cases across the world rose to 1.20 crore as on date, with the US accounting for the most (41 percent); India (4 percent). Source