Farmers spoil BJP's Sunday, heckle in Punjab, hurl stones in Haryana
CHANDIGARH: Screaming mobs of farmers guided by the Sanyukta Kisan Morcha (SKM) gate-crashed the Bharatiya Janata Party (BJP) events across Punjab and Haryana all Sunday, heckling its members and attacking its ministers.
At Dhanaula village in Punjab's Barnala district, they accused BJP's Harjit Singh Grewal of abusing some of them and then accused legislator Pyarelal and his BJP workers of trying to disrupt a protest at Ganganagar against Suratgarh MLA Rampratap Kasniyan, whom as well they accuse of using foul words for the farmers.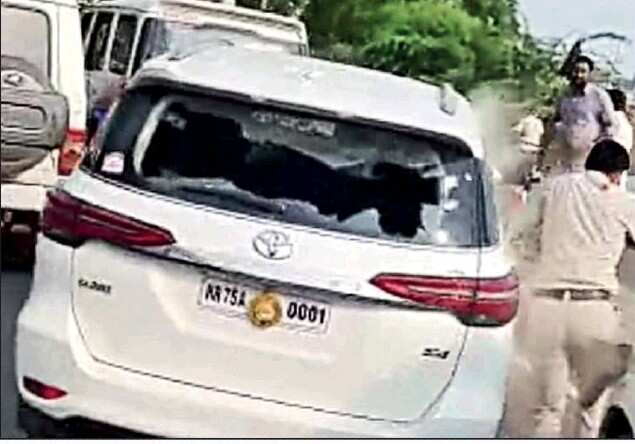 The rear windshield of Haryana legislative assembly deputy speaker Ranbir Gangwa's car was broken in stone pelting by protesters in Sirsa on Sunday
The morcha accused BJP MLA Vinita Ahuja of provoking farmers and threatened to take the protest to her constituency next. At Fatehabad in Haryana, they waved black flags at Sirsa BJP MP Sunita Duggal when she came over for a meeting. The Progressive Farmers' Front pitched its flag in Kargil and Ladakh. A contingent from Sonipat reached Delhi's Ghazipur border protest site that the BJP is accused of attacking a few days ago.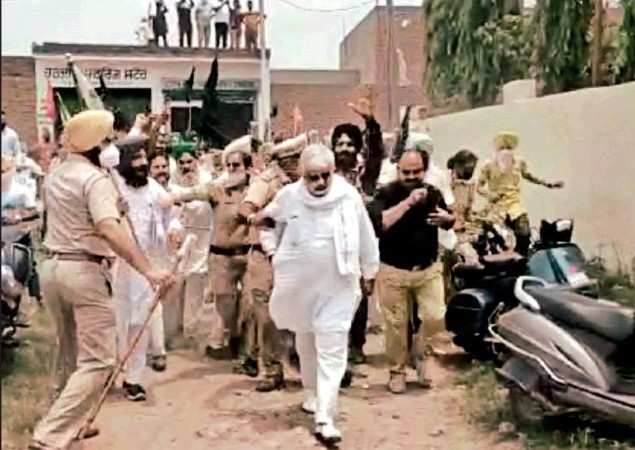 BJP's Bhupesh Aggarwal being chased away by farm activists in Rajpura
Farmer Sohan Singh, 46, of BKU (Lakhowal) and Kaunke Kalan in Ludhiana was electrocuted on Delhi's Singhu border protest site on Saturday night, leaving behind a mother, wife, three daughters, and a son.
In Haryana's Panipat, BKU (Charuni) targeted BJP state in-charge Vinod Tawde, education minister Kanwar Pal Gujjar, and Karnal MP Sanjay Bhatia, who had come to their executive workers' meeting at a college. Police presence gave them away. Farmer union district president Sudhir Jakhar was among those detained for a while. Education minister Gujjar said these protesters were not farmers.
In Sirsa, three cops and three protesters were injured when the farmers stormed the BJP's district executive meeting and pelted the deputy speaker's car with stones. The auditorium of Sirsa's Chaudhary Devi Lal University was barricaded heavily but the farmers broke through. Caught and let off after the programme, they protested against deputy speaker Ranbir Gangwa and MP Sunita Duggal. They broke more police barricades to barge into a similar BJP meeting of cooperation minister Banwari Lal in Fatehabad. The cops acted with restraint.
Haryana Kisan Manch state president Prahlad Singh Bharukhera said: "Unless the Centre repeals its agri-marketing laws and guarantees minimum support price (MSP), we will not end our agitation." Haryana Kisan Sabha district general secretary Roshan Suchan said the BJP was using the closed schools and colleges as its district offices.
On January 9, at the Aryanagar village of the in-laws of deputy speaker Ranbir Gangwa, the rear glass of his car was smashed and his gunman, Sandeep, was injured. In Hisar, the farmers forced BJP's Hansi MLA, Vinod Bhayana, to apologise for the alleged obscene gestures of one of his staffers at a woman protester from inside the car. The farmers had jammed the Hisar road and Ramayan toll plaza and cordoned the MLA's house in Hansi. Police had to save him.
The MLA said there had been no obscene gesture and that he never lied. Kisan Sabha district president Shamsher Singh Numberdar said the farmers will target former minister Manish Grover next, for it was his car.
At Ambala's Tepla village on the Jagadhri road, farmers of the BKU (Charuni) were booked for storming into a BJP meeting. They blocked the Saha national highway 444-A for some time. They had gathered for Haryana chief minister Manohar Lal Khattar but instead found BJP's Yamunanagar MLA, Ghanshyam Dass Arora, state general secretary Vedpal, and Ambala district president Rajesh Batoura.
Ambala Cantonment DSP Ram Kumar said: "We booked 15 protesters for damaging public property and blocking the highway." BKU Haryana (Charuni) district president Malkiat Singh Sahipura said: "Every BJP leader will be opposed. Doesn't matter if it isn't the CM. How long can they use police, will they also take the cops along during elections?"
In Jagadhri, 13 farmers were booked for protesting against Haryana transport minister Mool Chand Sharma, attacking the cops, trying to run them over with tractors, and damaging public property. Education minister Kanwar Pal and Yamunanagar MLA Ghanshyam Dass Arora were also targeted by the Charuni and Rakesh Tikait groups, and the CPM (Communist Party of India, Marxist). Deputy superintendent of police (DSP) Rajender Kumar said there had been no arrest, so far.
During a party meeting in Rajpura, BJP national general secretary Tarun Chugh condemned these attacks.
Source