India's Vaccination Drive: Know How Many People Got Covid Jabs In June
Covid Vaccine: The vaccination campaign is taking place around the country to curb the deadly coronavirus. There has been a significant increase in the vaccination campaign since June 21 and about 4.61 crore doses have been given in 8 days.
In June, on average, 40.3 lakh doses were given every day. Whereas between June 21 and 28, an average of 57.68 lakh people were vaccinated daily. So far, a total of 33 crore 57 lakh 16 thousand people have been vaccinated in the country.
India moved ahead on inoculation for an 8-day average period
Iraq – 4.02 crores
Canada – 3.77 crores
Saudi Arabia – 3.48 crores
And Malaysia vaccinated 3.23 crore of its population.
Different age groups, different vaccination rates?
About 49% of the population aged 60 years or more has received the first dose of the Covid-19 vaccine.
There are around 209 million people between the ages of 45 years and 59 years out of which 42% of people have been given the first dose of the Covid-19 vaccine.
About 15% of the 597 million people in the age group of 18 to 44 years have been given the first dose of the vaccine.
Between May 1 and June 24, 56% of the doses were given in rural areas, while 44% of the vaccine dose were provided in urban areas.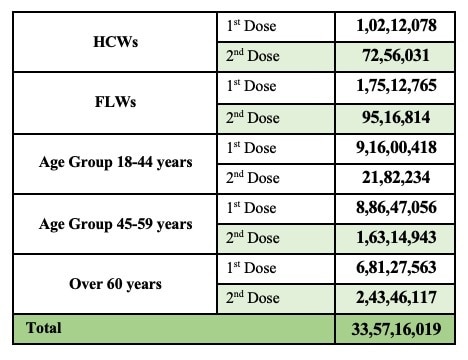 Tripura made record
Significantly, Tripura has administered the first dose of the vaccine to 98% of the people in the age group of 45 and above, which is a record made by any state in India.
However, there are many states which have vaccinated 60% of the people above the age of 45 years. These states are Himachal Pradesh, Jammu and Kashmir, Ladakh, Lakshadweep, Rajasthan, Chhattisgarh, Goa, Kerala, Mizoram, Sikkim and Uttarakhand.
Check out below Health Tools-
Calculate Your Body Mass Index ( BMI )
Calculate The Age Through Age Calculator