Ladakh: Military leadership informs Rajnath of China's refusal to disengage from LAC
Singh said the matter would be taken up again with the Chinese army during the next military and diplomatic-level talks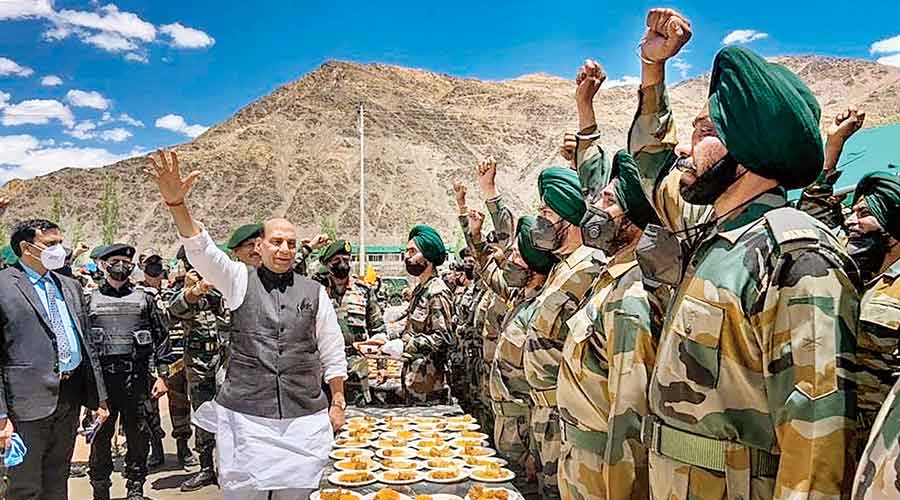 ---
---
The military leadership has informed defence minister Rajnath Singh of China's refusal to disengage from India-claimed lines at the remaining friction points in Ladakh, sources in the defence ministry said on Wednesday.
"Senior commanders of the army's northern command briefed Singh during his three-day visit to the region about the security situation along the Line of Actual Control (LAC) with China. During the closed-door meeting, the commanders made a PowerPoint presentation to show massive build-up by China at the remaining friction points inside India-claimed lines," a ministry official said.
Singh, who was in Ladakh since Sunday, said the matter would be taken up again with the Chinese army during the next military and diplomatic-level talks, the official added.
After a "partial" disengagement from Pangong Lake in February, the Chinese People's Liberation Army has so far refused to disengage from Depsang Plains, Hot Springs and Gogra. India has been pressing for disengagement from the remaining friction points, but the Chinese are said to have set conditions and have refused to disengage if their demands are not met.
Sources said the Chinese PLA during the 11th round of military-level talks in April had claimed that the occupied zones on Depsang Plains, Hot Springs and Gogra belonged to them and wanted Indian troops to move further back within the India-claimed territory.
"They want disengagement on their terms and have asked the Indian side to create demilitarised zones at the remaining friction points similar to the ones on the Pangong Lake and the Galwan Valley. This condition amounts to further territory loss for India," said a security official attached to the Union home ministry.
The Chinese army is said to be entrenched 18km inside India-claimed lines on the strategically crucial Depsang Plains. It has continued to cut off the Indian Army's access to five traditional patrolling points on the Depsang Plains — PPs 10, 11, 11A, 12 and 13 — since the border standoff began in May 2020.
In July last year, China had agreed to disengage from Hot Springs and Gogra but has since gone back on its word.
Four days after the clash at Galwan Valley killed 20 Indian and at least four Chinese soldiers on June 15 last year, Prime Minister Narendra Modi had asserted that no one had occupied or was occupying Indian territory, allowing Beijing to dismiss allegations of border transgressions.