'China will continue to be bossy'
'It is not a matter of fixing the military problem up there in the Himalayas and the retreat of the two militaries.'
'India has to find a way to correct the racist and very patronising views of India in the Chinese mind.'
"The massive power gap means that the Chinese don't see why they should concede anything to India because they are so powerful."
"On our side, we can't dare make any concessions because it will be seen as surrendering to the Chinese," strategic affairs expert Dr Kanti Bajpai, author of the fascinating new book India Versus China: Why They Are Not Friends, tells Rediff.com's Archana Masih in part 2 of a revealing interview.
Do you think Ladakh has finally erased the notion of tranquility along the LAC?
Have all past confidence building measures built over 33 years been consigned to the dustbin of history?
Will both nations now have to begin the very difficult process of re-establishing trust?
The first real confidence building measures or CBMs were negotiated in 1993 which is 28 years ago and since then there have been a series of meetings. At this point, it really does look that a lot of that has just gone down the dustbin of history, but I wouldn't go quite that far.
I say that because the understandings and negotiations managed to get the two armies to know each other for the first time since 1962. They got to understand their moves and countermoves much better. Some of that intellectual capital still remains and probably played a role in making sure that the situation didn't escalate beyond a point in 2020.
Some of these understandings have continued to play a role and could continue to do so. One shouldn't despair altogether.
I must also point out that some CBMs were never honoured and there's no point romanticising them beyond a point. For instance, there was an understanding that both sides will thin out their forces along the borderlands, but that did not happen.
The hotlines between military commanders have never been used very efficiently.
So yes, a lot of confidence and trust has been lost. It will certainly need some pullbacks by both sides and forging new understandings before stability can be regained.
In your understanding, how long will the rebuilding of trust take and in what forms?
The book says that there are four factors that have guided India-China relations since 1949:
Perceptions.
Perimeter — territorial issue and Tibet.
Partnerships — our relationships with other powers, most prominently the Soviet Union during the Cold War, then Russia and then the United States.
Asymmetry of Power.
It is not a matter of fixing the military problem up there in the Himalayas and the retreat of the two militaries, but India has to pay attention to all these four factors.
I show in the book that the two societies have very negative views of each other, especially on the Chinese side.
The Chinese have a very superior view of themselves and negative view of India. India has to find a way to correct the racist and very patronising views of India in the Chinese mind.
Secondly, Tibet is a very big issue. There is a view that in 1962, Tibet above all, was the problem for the Chinese. We are coming to a juncture where Tibet could boil up again because of the Dalai Lama's advancing age and the inevitable transition to a new Dalai Lama.
The Chinese will be very suspect of Delhi at that point and the latter has to play it very carefully.
Beijing is still vulnerable about Tibet. Along with the internal problems, they are worried about the ability of the United States and the external world to criticise them over Tibet.
India hosts the Dalai Lama, Tibetans and has a civilisational link to Tibet through Buddhism which makes China feel that India could be a destabilising influence in Tibet.
Hence, the problem of Tibet is still very live for the Chinese. We may not understand that, but they are very sensitive to it.
Thirdly, China is very sensitive to our deepening relationship with the United States.
In the longer term, we have to think about a way of dealing with the Americans in such a way that while we have them on our side, we don't alarm the Chinese. China should not feel that they are being boxed in by an alliance against them.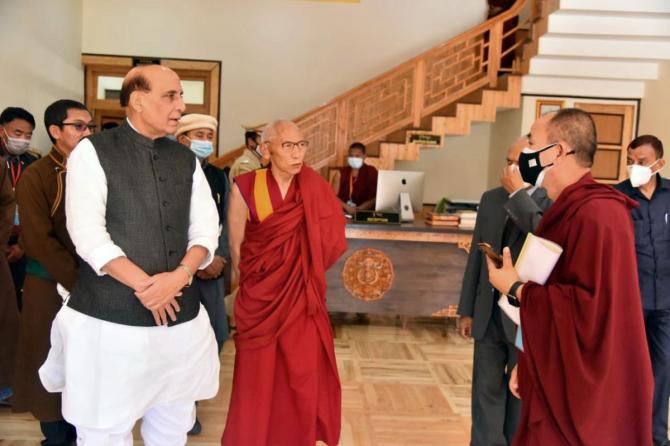 Fourthly, the book ends with the massive difference in power between India and China, especially in the economic domain.
Chinese GDP is five times our size. The gap today between the Indian and Chinese economy is about $12 trillion.
If China and India grow over the next 12 years at 6% each — Chin, which has a GDP of $15 trillion today, roughly, will be at $30 trillion.
India's GDP today is about $3 trillion. In 12 years, it will double to $6 trillion.
In 12 years, China will be at $30 trillion and India at $6 trillion. That's a $24 trillion gap. The gap between the two countries in absolute terms will double.
The government and commentators are talking about how India might begin to overtake China in terms of the annual growth rate, but the economy presently is in the doldrums. Nobody expects it to have astonishing rates of growth.
It's misleading to think about economic growth rates when the absolute gap is so massive.
In the 60 years since 1962, India has surpassed China's growth rate only 13 times — in 47 out of 60 years China has eclipsed our growth rate, and sometimes by huge margins.
In 1962, China was still a Communist country and India had a free market, but it was still outpacing us.
This massive power gap means that the Chinese don't see why they should concede anything to India because they are so powerful.
On our side, we can't dare make any concessions because it will be seen as surrendering to the Chinese.
Hence, there is a brittle gap in the relationship. Neither side is able to or wants to make any concessions because it fears that would send the wrong signal.
Unless India substantially closes this power gap, Beijing is not going to take us seriously and will continue to be bossy and unreasonable.
Feature Presentation: Aslam Hunani/Rediff.com