APD | Why is India directing towards offensive military strategy against China?
By APD writer Shristi Kafle
India has redirected at least 50,000 additional troops to India-China border, according to a latest India media report. The recent move has been viewed as a "historic shift toward an offensive military posture" against the neighboring China.
The report has sparked big questions at a time when the COVID-19 pandemic has ravaged this South Asian country with a huge blow to the national economy and public health system.
As many as 46,148 new COVID-19 cases were reported in India in last 24 hours alone, taking the cumulative count of infections to 3,02, 379, 331. Its death toll has risen to 3,96,730 as of Sunday.
To be noted, for decades, India's strategic focus has primarily been Pakistan as the two neighbors turned into rivals over the disputed region of Kashmir. However, with the deadliest India-China confrontation in the border region last year, India's focus has been on countering Beijing.
Over the past few months, India has moved troops and fighter jet squadrons to three distinct areas along its border with China, various media reports have stated. However, the government side has remained mum.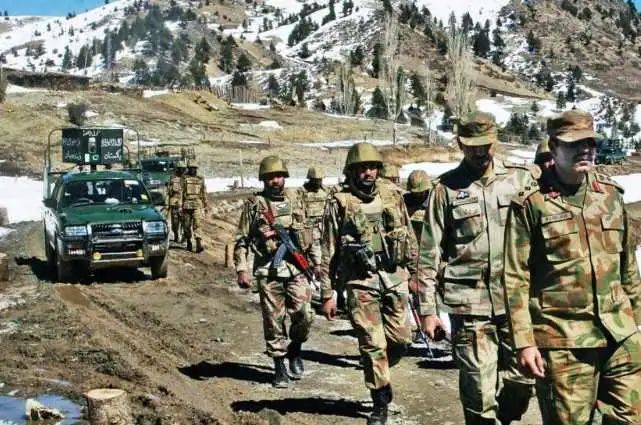 It has been informed that India has roughly 200,000 troops focused on the border. This number of troops has an increment of more than 40% from last year, before the border tension begun in Galwan Valley.
Since then, Prime Minister Narendra Modi's administration has put on whole concentration on the Chinese side. It has been reported that the northern region of Ladakh has seen the largest number of troops, with an estimated 20,000 soldiers.
It is learnt that the troops who were once engaged in anti-terrorism operations against Pakistan have been now deployed in India-China border.
It reflects that India plans to active more troops getting acclimatized to fight in the Himalayas. Only on Sunday, Indian Defence Minister Rajnath Singh reached Ladakh area located in the same conflicted valley. He is on a three-day visit for inauguration of projects and even visited military stations, raising more suspicions over the report.
"Whereas previously India's military presence was aimed at blocking Chinese moves, the redeployment will allow Indian commanders more options to attack and seize territory in China if necessary in a strategy known as "offensive defense," the Indian media quoted an expert in its report.
It further included that there could be involvement of more helicopters to airlift soldiers from valley to valley along with artillery pieces like the M777 howitzer built by BAE Systems Inc.
With the latest redeployment and strategies, there has been a wide spread fear that could invite a deadlier conflict as compared to the past ones. It is likely that a minor incident could take the situation out of control with huge consequences.
It has been learnt that the move came after few rounds of diplomatic talks with China could make only minimal progress.
"Having so many soldiers on either side is risky when border management protocols have broken down," D. S. Hooda, a lieutenant general and former Northern Army commander in India, was quoted in a report.
As per the Indian media reports, the Modi government has further obtained an offensive capability along the southern Tibetan plateau near the center of the border.
"In that more populated area, regular soldiers outfitted with machine guns have joined lightly armed paramilitary officers. In the far eastern state of Arunachal Pradesh, where most of India's border forces had been located and where much of the 1962 India-China war played out, newly acquired French-made Rafale fighter jets armed with long-range missiles are being deployed to support the boots on the ground," a report stated.
The report raises suspicions and queries while the country is now preparing for the possibility of the third wave and new variants like Delta Plus.
Amid such, India's offensive defense strategy against China, which has already controlled the pandemic and has been extending vaccine aid to several countries, has been viewed as an untimely act which could further worsen the matter.
(ASIA PACIFIC DAILY)