India-China clash: Rajnath in Ladakh amid Beijing build-up
The Defence minister took stock of India's military preparedness in the region in the wake of the border standoff that started in May last year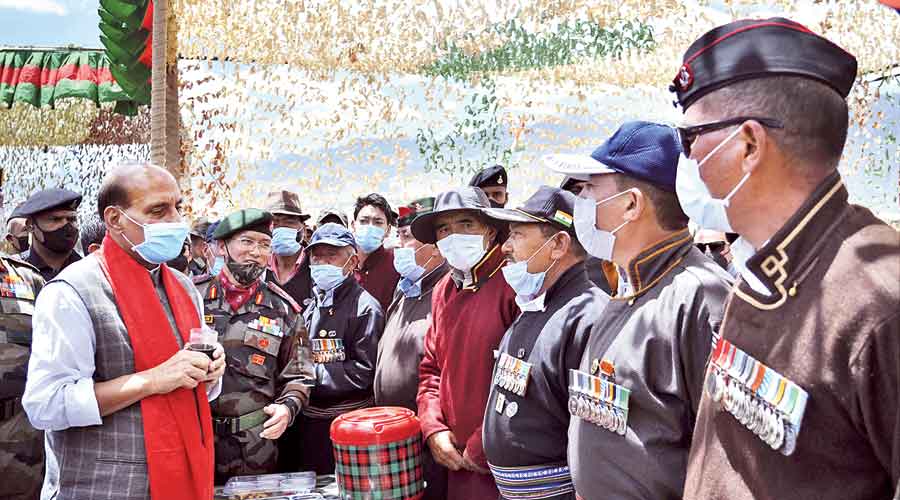 ---
---
Defence minister Rajnath Singh on Sunday met the military leadership in Ladakh amid massive Chinese build-up at the remaining friction points inside India-claimed lines along the Line of Actual Control.
Accompanied by army chief General M.M. Naravane, Rajnath arrived in Ladakh to take stock of India's military preparedness in the region in the wake of the border standoff with China that started in May last year.
Rajnath's visit comes at a time China is said to be resisting the Indian demand for the restoration of status quo ante. The Chinese army is reluctant to disengage from the remaining friction points — Hot Springs, Gogra and the Depsang Plains.
"Leaving New Delhi for Ladakh. During my visit, I shall be interacting with the troops and attending the inaugural function of several infrastructure projects constructed by Border Roads Organisation (BRO). Looking forward to it," Rajnath had said in a tweet earlier in the day.
This is also the first visit by the defence minister to Ladakh after India and China had moved back from their positions on the lake's north and south banks by creating a buffer zone within India-claimed lines under the disengagement process in February. Earlier this month, a ground assessment by Indian forces suggested only a "partial" disengagement by the Chinese from the Galwan Valley and the Pangong Lake.
"After the partial disengagement from Pangong Lake in February, the Chinese army has now been iterating its claim that the occupied zones in the Depsang Plains, Hot Springs and Gogra is their territory. They want Indian troops to retreat further within India-claimed lines, as at the Pangong Lake and the Galwan Valley," said a defence ministry official.
Sources in the security establishment said the Chinese army had been building up considerably along the LAC over the past one year, raising tension in the region.
Chinese continued to occupy areas within India-claimed lines also at Hot Springs and Gogra and the strategically crucial Depsang Plains where they were preventing Indian patrols from accessing the Line of Control. So far, 11 rounds of military talks have taken place without any breakthrough.
"The defence minister is scheduled to visit various key formations and high altitude bases in the region to assess ground realities and boost the morale of the troops deployed at the LAC," said an army official.