Blasts at Jammu Air Force Station
None injured; security agencies suspect use of drones to drop bombs
JAMMU
Two low intensity explosions took place early Sunday morning in the technical area of Jammu Air Force Station. Security agencies suspect that drones were used to drop bombs at the Air Force station, however, there was no confirmation from the Indian Air Force so far.
The explosions happened at 2 am. bomb disposal and forensic teams were at the airport and cordoned off the entire area.
Defence minister Rajnath Singh, who is on his way to Ladakh to review operations preparedness of the force, spoke to Vice Air Chief, Air Marshal HS Arora regarding explosions at the station. Singh said that Air Marshal Vikram Singh is reaching Jammu to take stock of the situation.
"One caused minor damage to the roof of a building while the other exploded in an open area," said Indian Air Force (IAF) in a statement. The force said that there was no damage to any equipment.
"Investigation is in progress along with civil agencies," IAF said.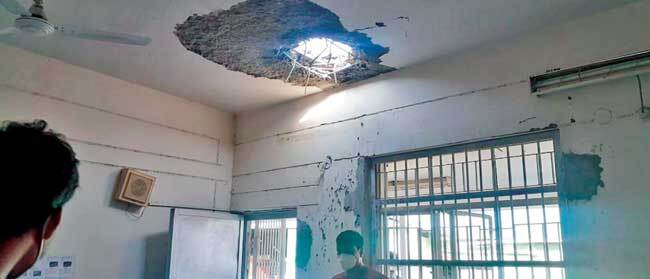 Defence ministry PRO, Lt Colonel Devender Anand said, "There were reports of an explosion inside Air Force Station Jammu. There is no injury to any personnel or any damage to any equipment."
Security agencies suspect that drones were used to drop bombs at the Air Force station.
The security establishments stated that there is suspicion that drones were used to drop IED inside the airport to trigger the blast.
NIA team reaches spo
A team of the National Investigation Agency (NIA) reached the Air Force station Jammu on Sunday while all flight operations took place normally from Jammu airport except for two earlier flights which were cancelled due to operational reasons.
In the wake of two explosions that occurred at the Air Force Station here, a team of the NIA reached the spot where some damage was caused to the concrete structures at the Air Force Station.
Meanwhile, additional director general Police (ADG) Jammu, Mukesh Singh told reporters that the police have arrested a militant near a mall in the jurisdiction of the Trikuta Nagar police station from whose possession an IED weighing 5 kgs has been recovered.