The optimistic signs of Kashmir talks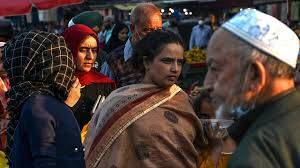 The whole nation wants to see Jammu and Kashmir, once the crown and garden of India, regaining its olden glory. The number of anti-national and destructive activities that have been going on there for a long time have been brought down in recent times. Yet complete peace and tranquillity cannot be said to have been achieved. There are still parties and a section of the people who are furious and protesting against the decision taken by the Centre on August 5, 2019 to revoke the special status and rights of Kashmir. Section 370 was repealed and Jammu and Kashmir and Ladakh were made Union Territories. Although it created a lot of political controversy, it did not lead to the riots as many thought, due to the firm and diplomatic approach taken by the Centre.
By the time the new constitutional amendment law on Kashmir was introduced in Parliament, the Centre had assured that action would be taken to restore the state status of Kashmir as soon as possible. This assurance was reiterated during a meeting between Prime Minister Narendra Modi, Home Minister Amit Shah and a delegation of officials with leaders of 14 parties in Jammu and Kashmir yesterday. The current relevance of this discussion is that the parties who are adamantly opposed to the central measures are also ready to take a positive approach. It is a good sign that PDP leader Mehbooba Mufti and others, who had turned their backs on the talks, have abandoned their confrontation and joined the talks.
Currently, constituency re-constitution is underway in the Union Territory of Jammu and Kashmir. The main problem is that many parties are not cooperating with the Reconstitution Commission. Constituency delimitation must be completed as soon as possible if early elections are to be possible.
In Kashmir, the old situation where young people have turned to destructive activities en masse has changed. Unemployment and stagnant development were the main problems facing Kashmir. Increased employment opportunities must be created if unemployment is to be addressed. Changes in property laws have created the conditions for entrepreneurs to come from outside.
If the well-being and prosperity of the people is the main concern, then there must be a change in the thinking and attitude of the Kashmir leaders from time to time.