How world's costliest mangoes are guarded

Shailajanand Mishra lists The Top Videos of the Week! Take a look.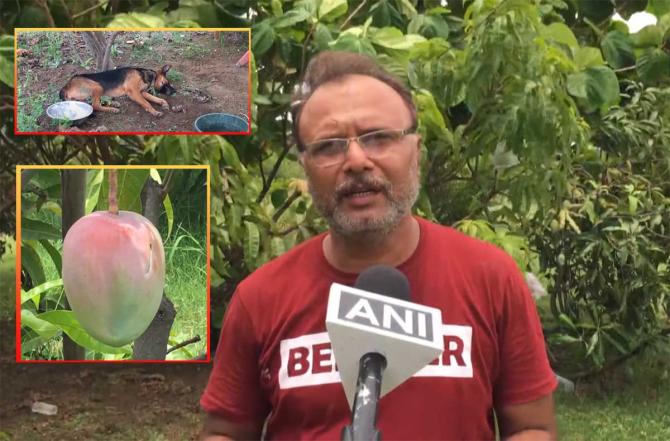 Every week is full of newsworthy events. And we make sure we bring you the most interesting ones, with a special twist.
These videos are chosen by you, through your likes.
So if you'd like to see your favourite video on our weekly round-up, please make sure you like them on iShare.
---
How the world's costliest mango is guarded
Date: June 18
Location: Jabalpur
Can you imagine a mango that costs Rs 21,000 per fruit?
A farmer in Jabalbur grows these much coveted mangoes.
And, this year, he has hired three security guards and nine dogs to protect his precious trees.
---
When Akshay Kumar danced with BSF jawans
Date: June 18
Location: Gurez, Kashmir
Bollywood superstar Akshay Kumar spent a memorable day with Border Security Force jawans.
Bollywood's favourite 'Khiladi' donated Rs 1 crore (rs 10 million) to improve school infrastructure in villages near the Line of Control.
---
100-year-old Odisha woman defeats COVID
Date: June 19
Location: Nayagarh, Odisha
Sumati Nayak, a centenarian from Nayagarh district's Khandapada area, has beaten the dreaded COVID disease.
She was infected with COVID on June 5 and admitted to the COVID hospital near Khandapada after her oxygen levels dropped. As a result of the dedicated care provided by her doctor and nurses, she defeated the deadly virus.
District Collector Dr Poma Tudu said, "She was declared fit on June 16 and has returned home."
---
A village untouched by COVID
Date: June 22
Location: Coimbatore
Chinnampathy, a tribal village situated in the hilly area of Coimbatore, has remained COVID-free.
The villagers don't wear masks and don't welcome outsiders.
They believe they will not get infected by the coronavirus as they eat only green vegetables.
---
Tripura's 9-year-old yoga enthusiast
Date: June 21
Location: Agartala
A 9-year-old yoga enthusiast from Agartala performed difficult asanas to mark June 21, the International Day of Yoga.
This little health enthusiast was mentioned in the India Book of Records for performing the Baddha Konasana for 5.10 seconds. He created a new record of 10.03 seconds for the Asia Book of Records on April 29, 2021.
Listen in as he shares his healthy lifestyle tips.
---
ITBP officer's Surya Namaskar in sub-zero temperature
Date: June 21
Location: Ladakh
An Indo-Tibetan Border Police officer celebrated the International Day of Yoga at an altitude of 18,000 feet.
The officer, who is part of ITBP's Himveer unit, performed the Surya Namaskar in sub-zero temperatures in Ladakh.
---
Leopard strolls through Agra
Date: June 22
Location: Agra
A leopard was spotted at a residential area in Agra on June 22.
Forest officials captured the spotted cat and released it into its natural habitat before it could do any damage.
---
Saina, Parupalli get romantic at the Taj
Date: June 22 Location: Agra
Badminton stars Saina Nehwal and Parupalli Kashyap, visited the Taj Mahal on June 22.
---
Mulberry harvesting in full swing
Date: June 22
Location: Mirgund, Kashmir
Delicious mulberries are being harvested across different parts of the Kashmir Valley.
The farmers are happy about this year's yield, the result of favourable climatic conditions.
---
Feature Presentation: Ashish Narsale/Rediff.com