PM Modi J&K Meet: PDP Chief Mehbooba Mufti Recommends Resuming Talks With Pakistan, BJP Opposes Suggestion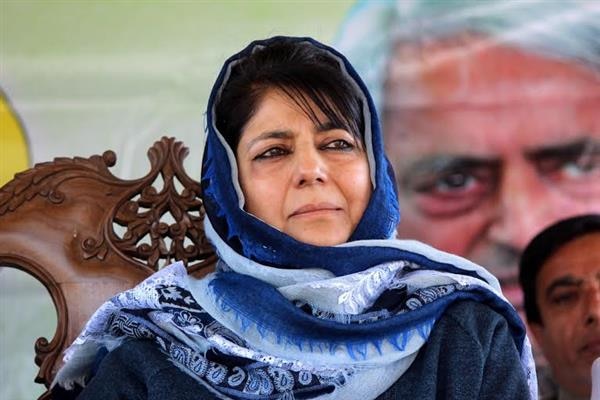 New Delhi: PM Modi on Thursday chaired an all-party meeting with 14 leaders of 8 political parties of Jammu and Kashmir. The discussions lasted for about three and a half hours.
Emphasising the restoration of the democratic process in Jammu and Kashmir, PM Modi told the leaders that assembly elections will be held in the erstwhile state as soon as the delimitation exercise is concluded.
ALSO READ | PM Modi, JK Leaders Meet Ends; Delimitation, Election, Restoration Of Statehood Discussed | HIGHLIGHTS
After the meeting, PDP President Mehbooba Mufti told reporters that the meeting went well and she appreciated the Prime Minister for starting informal talks with Pakistan. Due to which a ceasefire agreement was reached on the Line of Control (LoC) and the level of infiltration came down. She said, "I have requested the Prime Minister that if need be, we can once again talk to Pakistan to take the peace process forward". On abrogation of Article 370, Mehbooba said that her party will continue to fight for its restoration.
"After all, special status has not been given to us by Pakistan. It was given to us by late Prime Minister Jawaharlal Nehru and Sardar (Vallabhbhai) Patel. We will continue to fight for the restoration of special status through legal and constitutional means," she added.
BJP Delegation Opposes Dialogue With Pakistan
Opposing a dialogue with Pakistan till it stops "exporting" terror into Jammu and Kashmir, a BJP delegation led by J&K president Ravinder Raina at the all-party meet, said those seeking engagement with the neighbouring country should meet the victims of violence to understand their pain.
The delegation called for intensification of efforts to root out the "sense of Pakistan, separatism, and terrorism" from Jammu and Kashmir to provide a peaceful atmosphere to its people who are Indian to the core of their "heart, blood and DNA", Raina told PTI at the end of the meeting.
ALSO READ | 'Want To Remove Dilli Ki Duri & Dil Ki Duri': PM Modi To Kashmir Leaders During All-Party Meet
"Jammu and Kashmir should get full statehood": Ghulam Nabi Azad
In a conversation with ABP News, Congress leader Ghulam Nabi Azad said that full statehood should be restored in Jammu & Kashmir and elections should be held there. "Arrangements should be made to bring back Kashmiri Pandits. They should be guaranteed employment," he said.
"In Assam and North East, it was announced that delimitation would take place but it was stopped before the election in Assam. So that can happen here as well," he added.
The Home Minister is reported to have responded to it by saying that the Lok Sabha seats in those states did not increase or decrease. But seven seats will be increased in the case of J&K because Ladakh had four which will be added and three more were increased earlier. So from 87, J&K is now going to have 90 seats in the parliament. The total of 7 seats will be increased by the delimitation process.
Besides this, NC leader Omar Abdullah, while speaking to reporters, said: "We told PM that we don't stand with what was done on August 5, 2019. We are not ready to accept it. But we won't take the law into (our) hands. We will fight this in court. We also told PM that there's been a breach of trust between State & Centre. It's Centre's duty to restore it".
The meeting, which was held to chalk out the future political course of action in Jammu and Kashmir, was convened by Prime Minister Narendra Modi and it had in attendance 14 leaders from the Union Territory. The meeting took place a day after the Election Commission held virtual discussions with its representatives in Jammu and Kashmir and the Deputy Commissioners regarding the delimitation of the 90 Assembly constituencies in the Union Territory.