PM Modi, J&K Leaders Meet: Farooq, Mehbooba, Ghulam Nabi Arrive In Delhi; Meeting Underway | Updates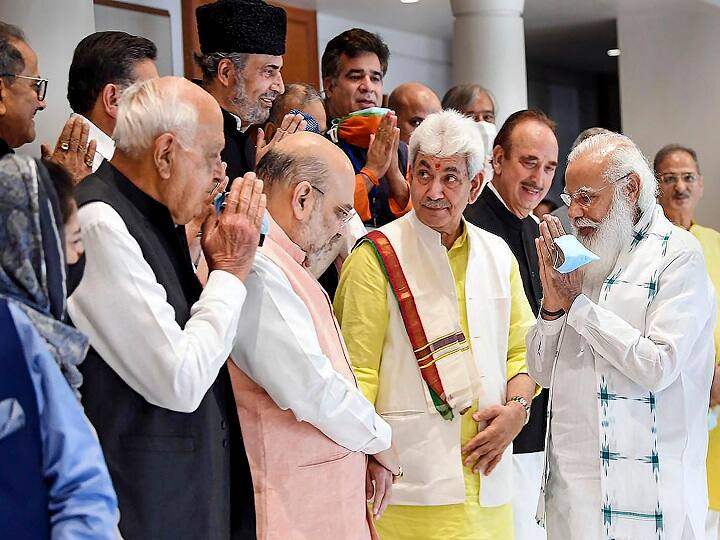 New Delhi: Prime Minister Narendra Modi held an all-party meeting with the leaders of Jammu and Kashmir at his official 7, Lok Kalyan Marg residence in the national capital on Thursday in a bid to chalk out the future political course of action in the erstwhile state.
The meeting is the Central government's first major outreach to the political leaders of the erstwhile state since August 2019, when special status granted to Jammu and Kashmir under Article 370 of the Constitution was scrapped.
National Conference chief Farooq Abdullah, People's Democratic Party (PDP) supremo Mehbooba Mufti and Congress' Ghulam Nabi Azad are among those present at the meeting besides other leaders of Jammu and Kashmir.
The Centre had invited 14 leaders from eight political parties for the meeting.
Prior to the meeting, Farooq Abdullah refused to divulge the details that he would put up before the Centre
"I will keep the demands there and then I will talk to you. Mehbooba Mufti is the president of her party, why should I speak on what she said," ANI quoted Abdullah as saying.
Mufti on her part said she hopes for a clear resolution to their concerns and added that all issues can be solved through dialogue.
The meeting took place a day after the Election Commission held virtual discussions with its representatives in Jammu and Kashmir and the Deputy Commissioners regarding the delimitation of the 90 Assembly constituencies in the Union Territory.