Narendra Modi seems to retrace his steps on Kashmir's mainstream politicians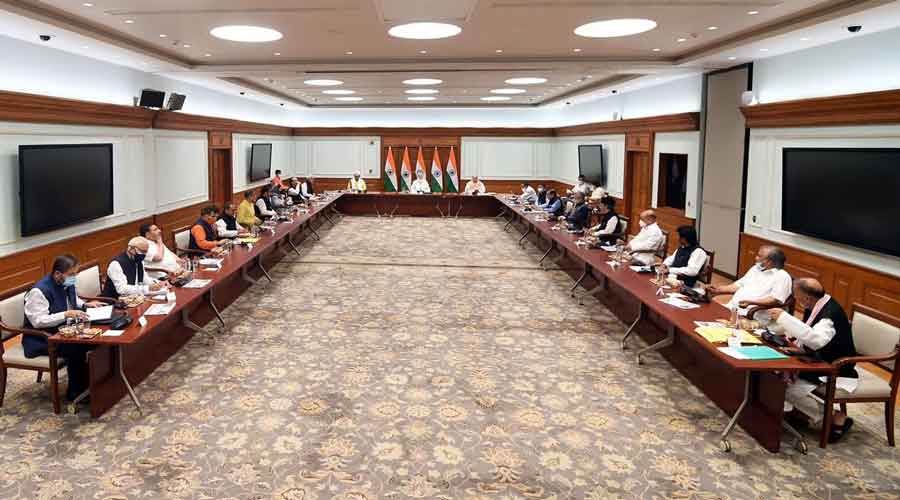 Prime Minister Narendra Modi on Thursday seemed to retrace his steps on Kashmir's mainstream politicians as he spoke and posed with them, underlining the political importance of people jailed, vilified as "anti-national" and dismissed as irrelevant by members of his own administration.
In contrast to the symbolism of the outreach, though, Modi's Delhi meeting with 14 Jammu and Kashmir politicians yielded little of substance apart from an assurance to restore statehood if they supported and participated in the ongoing delimitation exercise, political sources said.
Still, sources among those who attended the meeting appeared happy at the change of their status, emphasising how they were able to say before the Prime Minister things "for which people are jailed every day here".
For instance, Mehbooba Mufti told Modi that Article 370 had been "illegally and unconstitutionally scrapped" and asked him to talk more to Pakistan.
"The Prime Minister's picture with the leaders explains it all. They had been pushed to the political margins, jailed, but today they were in the same row with the Prime Minister," a senior leader from the five-party alliance that is fighting for full restoration of Article 370 told The Telegraph.
"There were no red lines and leaders were free to tell the Prime Minister things for which people are jailed every day here. Also, it's part of a larger peace process with Pakistan and we hope more engagements will follow."
A tweet from Modi later acknowledged as "leaders of J&K" people his administration had sought to marginalise in Kashmir politics and replace with others.
"Our democracy's biggest strength is the ability to sit across a table and exchange views. I told the leaders of J&K that it is the people, specially the youth who have to provide political leadership to J&K, and ensure their aspirations are duly fulfilled," the tweet said.
Politically, the Prime Minister offered no concessions at the talks and focused on the delimitation and development.
The delimitation remains one of the BJP's last remaining agendas in Jammu and Kashmir, through which it apparently wants to tilt the balance in favour of Jammu's Hindu-majority areas. The Valley, which roughly accounts for 60 per cent of the Union Territory's population, has 46 of the 83 Assembly seats while Jammu has 37.
A breakthrough was never expected at a meeting with politicians opposed to the scrapping of the special status, nor did the Centre indicate any willingness to strive for a middle ground.
Among those who met Modi were former chief ministers Farooq Abdullah, Omar Abdullah and Mehbooba, whom the government had jailed along with thousands of others when the then state's special status was revoked on August 5, 2019.
The atmosphere was therefore bound to be electric. The meeting lasted well over three hours and emotions ran high as Mehbooba, in particular, complained about the way Valley politicians had been humiliated and hounded and Articles 370 and 35A, which formed the bedrock of Kashmir's relations with Delhi, amended or scrapped.
Sources said the focus of Modi's outreach was to make his guests lend their support to the delimitation to give it credibility.
A source said: "He and home minister (Amit Shah) also spoke about development activities that they claim have taken place. That said, he (Modi) wanted the delimitation to be undertaken so that Assembly elections are held."
"He said they (the government) were committed to restoring statehood but made no immediate promise of restoring it."
While Hindu-majority Jammu is getting increasingly impatient for Assembly polls to be held after three years of central rule, the Centre is reportedly under pressure from the US, too, to restore the democratic process in Jammu and Kashmir.
The National Conference and some other Valley parties appear likely to cooperate on the delimitation but any focus on granting more seats to Jammu's Hindu-majority areas is likely to inflame the situation. These parties have, however, not decided yet whether to participate in any elections held later.
Omar said the National Conference had decided to review its previous decision to not participate in the exercise and would consider a fresh invite from the delimitation commission. He, however, said there was no need to single out Jammu and Kashmir for delimitation when such an exercise for the whole country was scheduled in 2026.
Of the 14 invited, 10 were from the BJP or friendly parties, the Congress included, since it has toned down its rhetoric on Article 370 and limited its demand to full restoration of statehood.
Two were from Sajad Lone's People's Conference and one from the Apni Party, who want to leave the issue of Article 370 to the Supreme Court, which is hearing petitions on it. All they want is restoration of statehood.
The problem area for Modi was the five-party People's Alliance for Gupkar Declaration, four of whose leaders — Farooq, Mehbooba, Omar and CPM veteran Yousuf Tarigami — were at the meeting.
That the leaders chose to address the media separately after the meeting mirrors the differences within the alliance. For instance, Mehbooba took a more hard-line position on special status and Pakistan.
"The meeting took place in a cordial way. I spoke of how the people of Jammu and Kashmir are suffering. People are angry and furious, emotionally broke. They feel humiliated," Mehbooba said.
"I told him (Modi) that the way Article 370 was illegally and unconstitutionally scrapped on August 5, 2019, is not acceptable to the people. The way the BJP struggled for 70 years to remove Article 370 — we will struggle constitutionally, peacefully to restore it, whether it takes us months or years. We did not get it (Article 370) from Pakistan. We got it from our country."
Mehbooba also risked touching a raw nerve by pressing Modi to talk more with Pakistan if it brought peace to Kashmir, referring to a host of initiatives he had already taken, such as a ceasefire.
Omar said it appeared that talks with Pakistan were under way and, if so, he welcomed the development.
"We should use back channels to improve the tensions," he said, appearing to differ with his father who had said ahead of the meeting that he was not interesting in seeking Pakistan's involvement in the talks.
Omar said his party too sought restoration of Article 370, but appeared to suggest the National Conference would rather fight the battle in the courts.
"We don't believe in the August 5, 2019 (measures) that include the division of (the erstwhile) state. We want (that), when the issue comes up in the Supreme Court, we will present our view," he told reporters after the meeting.
Apparently dissatisfied with the outcome, Omar said one meeting would not bring hearts together. It appeared an allusion to Modi's reported comment at the meeting that he wished to bridge "Dilli ki doori" (the distance with Delhi) as well as "Dil ki doori" (the distance between hearts).
An official spokesperson said the Prime Minister appreciated the cordial atmosphere at the talks and the frank exchange of views.
"He stressed that our priority was to strengthen grassroots democracy in J&K. He added that the delimitation had to happen at a quick pace so that polls can happen and J&K get an elected government that gives strength to J&K's development trajectory," he said.
In the Valley, people had little expectations from the meeting. Many here believe that Modi is releasing pressure on the international front at a time China is holding on to territory it has occupied in Ladakh — at Kashmir's doorstep — and back-channel negotiations with Pakistan have become important.