India: Narendra Modi hints at Kashmir elections
Indian Prime Minister Narendra Modi met with pro-India politicians from disputed Jammu and Kashmir on Thursday.
The talks were the first time since New Delhi stripped the region of its semi-autonomous status in 2019.
What did Modi say?
The meeting was attended by leaders from regional and mainstream parties, including three former chief ministers who were among the thousands jailed on the eve of the end of the region's special status.
Modi posted pictures from the meeting on Twitter, suggesting elections should take place there soon. "Delimitation has to happen at a quick pace so that polls can happen and J&K (Jammu and Kashmir) gets an elected Government that gives strength to J&K's development trajectory."
The Kashmir state was stripped of special powers, including the right to its own constitution and flag in August 2019. It was also divided into two federally controlled territories: Ladakh and Jammu and Kashmir.
What did Kashmiri leaders say?
Some regional leaders said they demanded the restoration of their statehood and limited autonomy at the talks.
"We told the prime minister that we don't stand with what was done on August 5, 2019," said Omar Abdullah, leader of the National Conference regional party. "We're not ready to accept it, but we won't take law into hands, we will fight this in court."
Other regional leaders did not explicitly demand a restoration of the special status, but did stress an early restoration of statehood. The regional representatives who were present said the federal government did not respond to the demand for statehood before elections.
The 2019 decision to revoke the region's statehood and semi-autonomy triggered large protests and angered local leaders who claimed they were never consulted.
"I spoke about the pain and anger and frustration among the people of Jammu and Kashmir since August 2019, about how they feel humiliated," said Mehbooba Mufti, leader of the regional People's Democratic Party. "I said people of the J&K are facing a lot of problems…even if they breathe loudly they are jailed."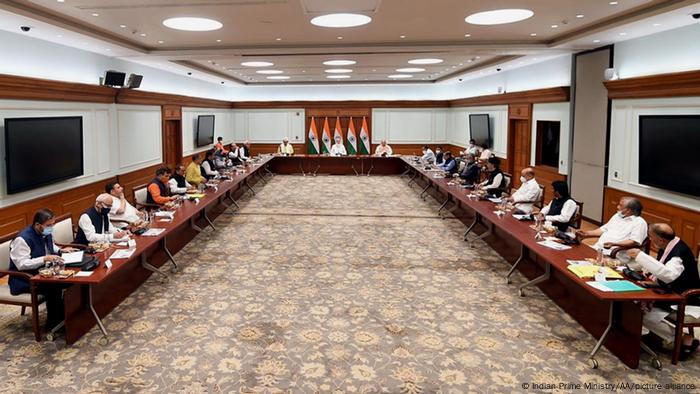 Modi and the federal government did not agree to give Kashmir's special status back
Mufti said she told Indian leaders that New Delhi should also discuss a solution to the dispute with neighboring Pakistan.
Muslim-majority Kashmir is divided between India and Pakistan, both of which claim it in its entirety.
kbd/rt (AP, dpa, Reuters)