J&K's political leaders to meet to PM Modi in Delhi today
Move Centre's first major outreach since scrapping of special status under Article 370 in 2019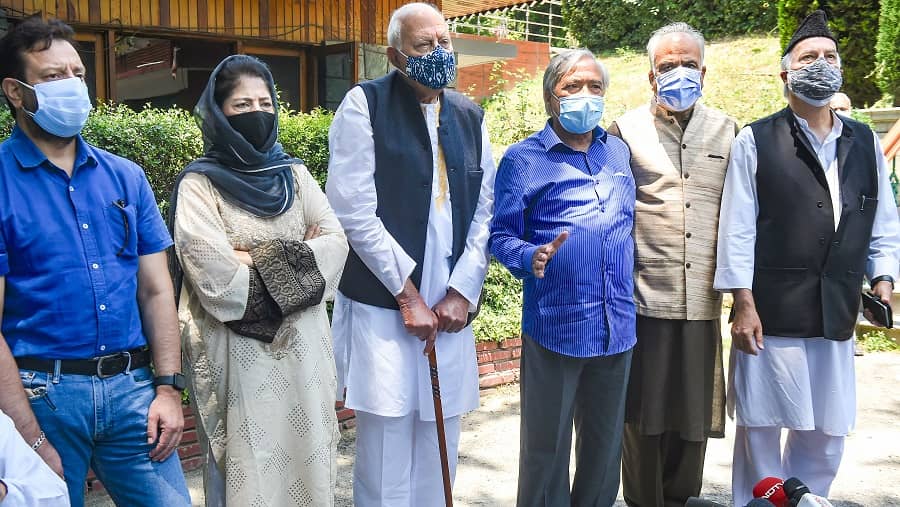 ---
---
Prime Minister Narendra Modi is scheduled to meet political leaders of Jammu and Kashmir at his Delhi residence at 3 pm today in the central government's first major outreach since the scrapping of special status under Article 370 in 2019.
The five-party alliance fighting for the restoration of Jammu and Kashmir's special status on Tuesday agreed to join an all-party meeting after convening a meet at Farooq Abdullah's residence to discuss govt's invitation.
"We have received the invitation from the prime minister and we are going to attend (the meeting)," Abdullah had told reporters after the meeting.
On August 5, 2019, the Modi government had diluted Article 370 and bifurcated the state into the two Union Territories of Jammu and Kashmir and Ladakh. The Centre has followed it up with laws, like allowing outsiders to own property here, which are seen aimed at changing the Muslim majority character of the erstwhile state.
For the first time after the move, the central government last week extended an invitation for talks to 14 leaders from key parties across Jammu and Kashmir, including three former chief ministers Farooq Abdullah, Mehbooba Mufti and Omar Abdullah.
The PAGD chairperson had said that the alliance was confident it would be able to put its stand before the prime minister and Union Home Minister Amit Shah during the meeting.
"When the meeting ends, we will brief you here as well as in Delhi on what we did there, what we said and what was their response," the former Jammu and Kashmir chief minister and National Conference president said.
The alliance decided it will tell the Centre that the August 5, 2019, move was wrong, illegal and unconstitutional, and nothing short of Jammu and Kashmir's restoration was acceptable to them.
People's Democratic Party president Mehbooba had appeared more belligerent while narrating what they will tell the Prime Minister.
"We will talk on what was snatched from us and (will tell them) that it was wrong, illegal and unconstitutional. Without it, the Jammu and Kashmir issue, the situation in Jammu and Kashmir and peace in the whole region cannot be restored," she had said.