Two former chief ministers to discuss Kashmir's status with Indian premier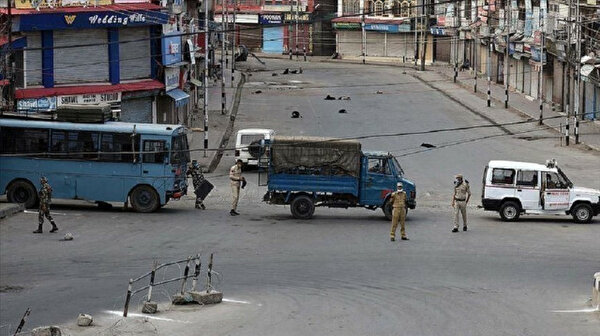 Two former chief ministers of Indian-administered Kashmir and a local leader of the Communist Party of India will meet the Indian prime minister on June 24 in New Delhi apparently for talks on the future political status of the region.
The Indian government recently invited key pro-India political parties for the meeting.
Some of these parties, which are part of an alliance formed to seek the restoration of the region's political autonomy that was scrapped by the Indian government in Aug. 2019, held a meeting on Tuesday ahead of the meeting with Premier Narendra Modi.
The alliance, People's Alliance for Gupkar Declaration (PAGD), was formed a day before Aug. 5, 2019, when the Muslim-majority region lost its special status and was divided into two federally ruled territories.
Farooq Abdullah and Mehbooba Mufti, both former chief ministers who were imprisoned a day before India abrogated the special status of Jammu and Kashmir, and Muhammad Yusuf Tarigami, a spokesman for the PAGD, will represent the group at the meeting with Modi.
The Indian government has not spelled out the agenda of the meeting. Most media reports have speculated that the region could again be upgraded to the status of a state and elections may be held for the local assembly. But, they have cautioned the talk of the restoration of the special political status is off the menu.
Before and after Aug. 5, 2019, dozens of pro-India politicians were jailed under preventive detention laws. Some are still in prisons. A few, including Mufti's uncle Sartaj Madni and trusted aide Naeem Akhar, were released from jail and house detention respectively only a few days ago apparently to create positive vibes for the forthcoming meeting.
Top leaders of the ruling Bharatiya Janata Party, including Modi, have repeatedly blamed Abdullahs and Muftis, who have ruled Kashmir the longest, and written them off the region's political landscape.
Apprehending that their meeting and any subsequent dealing might be construed as a sellout, the alliance leaders told reporters after today's meeting that "there would be no compromise on Article 370 and Article 35A".
Article 370 and Article 35A of the Indian Constitution granted special political status to Jammu and Kashmir. Both were annulled on Aug. 5, 2019 by the Indian Parliament without consulting any leadership of the region.
"There should be no mistaken belief that we are going to sign the agenda set by them. We are going to see what the proposal is. If it is in the interest of people we say yes and if otherwise there is going be a big no," Tarigami told reporters.
Farooq Abdullah, who is currently a member of the Indian parliament, said: "We are confident that we will put our stand before the prime minister and home minister. We will brief you about what we said there and what was the response."
– Disputed region
Kashmir, a Muslim-majority Himalayan region, is held by India and Pakistan in parts and claimed by both in full. A small sliver of Kashmir is also held by China.
Since they were partitioned in 1947, India and Pakistan have fought three wars – in 1948, 1965 and 1971 – two of them over Kashmir. Also, in the Siachen Glacier region of northern Kashmir, Indian and Pakistani troops have fought intermittently since 1984. A cease-fire took effect in 2003.
Some Kashmiri groups in Jammu and Kashmir have been fighting against Indian rule for independence or for unification with neighboring Pakistan.
According to several human rights organizations, thousands have reportedly been killed in the conflict since 1989.