Sindh facing dictatorship in name of democracy: Fawad Ch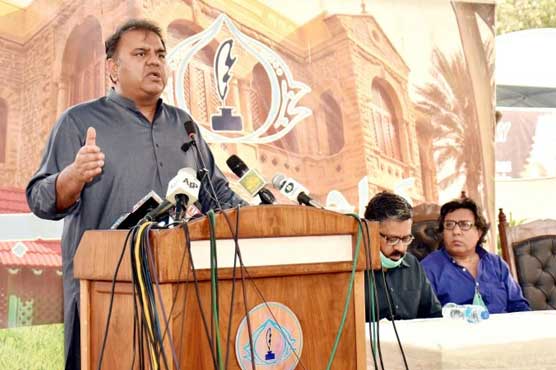 Published On 20 June,2021 01:54 pm
Opposition cannot defeat Prime Minister (PM) Imran Khan: Fawad Chaudhry
ISLAMABAD (Dunya News) – Federal Minister for Information Fawad Chaudhry on Sunday has said that Pakistan Muslim League-Nawaz (PML-N) president Shehbaz Sharif cannot take decisions by his own.
In a statement, the minister alleged that Pakistan Peoples Party (PPP) has always taken non-democratic steps in its tenure. Sindh is facing dictatorship in name of democracy, he added.
Fawad Chaudhry further said that Jamiat Ulema-e-Islam (JUI-F) chief and opposition's alliance Pakistan Democratic Movement (PDM) head Maulana Fazlur Rehman wants to disrupt the system. Opposition cannot defeat Prime Minister (PM) Imran Khan, he added.
The minister said PTI-led federal government has transferred 1800 billion rupees to the Sindh government during the past two years and asked as to where the money was utilized and why it is not being spent on Karachi's uplift.
Responding to question he said the stance of Prime Minister Imran Khan is clear that the use of bases or the territory of Pakistan will not be allowed for action in Afghanistan.
Earlier, Chaudhry Fawad Hussain said that government does not want to keep Nawaz Sharif in jaild, he will be free to go anywhere after returning the looted money.
Talking to media in Skardu Press Club on Saturday, he said government is also working on the legislation to make Gilgit Baltistan an interim province of the country. He said a historic share in current budget has been announced for Gilgit Baltistan.
He said commencement of new flights by Pakistan International Airlines in Skardu will help promote tourism in the province.
The Minister said our enemies have been devising conspiracies but people of GB feel them associated with Pakistan. He said GB has a great significance in China Pakistan Economic Corridor because of its geographical location.
He said steps will be taken to establish a training center in Skardu Press Club to train young journalist about digital media. He stressed on the need to promote environment and wildlife reporting.