Massive Chinese ramp-up of aviation facilities in border regions. Should India be worried?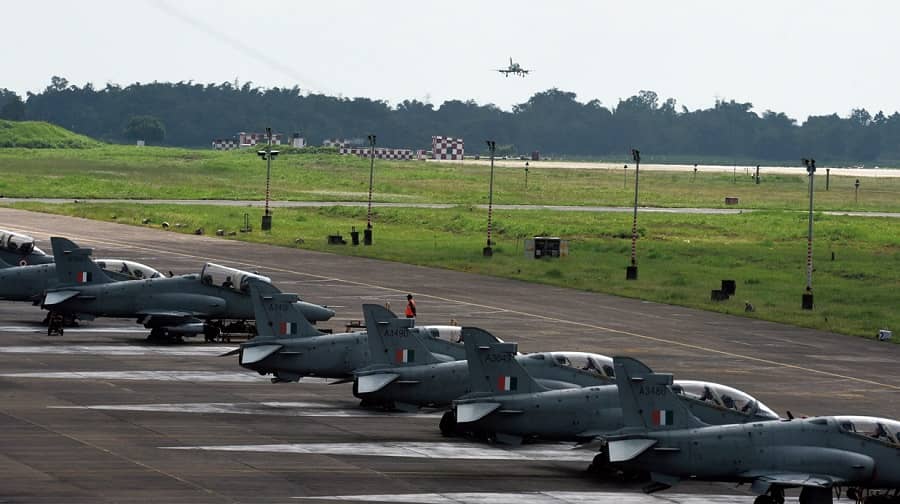 China is building three new airbases and hugely expanding five others from Xinjiang to Tibet in moves that will immensely boost its air power in the event of a conflict with India in Ladakh or Arunachal.
The latest enormous expansion is part of a Chinese military infrastructure building blitz including new ground-based air defences, heliports and rail lines that began after the Doklam standoff in 2017 and have been stepped up following the bloody Galwan encounter and the subsequent India-China standoff.
The expansion is breathtaking in its scale and harkens back to the early 2010s in the South China Sea in terms of how fast Beijing is working to shift the strategic reality in the region on its own terms," says a joint report by Detresfa, Sim Tack and The Intel Lab published in The Drive/The Warzone.
In the Xinjiang region, China's building a new air base at Tashkurgan and expanding existing airbases and airports at Kashgar and another city Hotan. Hotan air base is close to the area that separates Aksai Chin and Ladakh. "The expansion of capabilities at Hotan is not a minor adjustment in China's posture and represents a drastic escalation that is fully oriented toward expanding Chinese airpower in the areas around Ladakh," says the report in The Warzone.
Close to Arunachal Pradesh, the Chinese are also expanding what used to be a primarily civilian airport at Chengdu Bangda. The airport's runway, already one of the longest in China, is being extended and underground facilities are being constructed in the mountains next to the airport. The long runway is needed because the airport is situated at 14,219ft and engines don't function at full efficiency at this elevation because of the rarified atmosphere.
Further away from the border, Lhasa Airport across from Sikkim and Arunachal Pradesh is the logistical hub for the region and is also getting 24 new hardened shelters and underground facilities. China also constructed a new dual-use airport at Shigatse Tingri which is close to the Nepal border and about 230km from Doklam, the scene of the India-China standoff in 2018.
Also in Tibet, Ngari Gunsa airbase is getting 12 hardened aircraft shelters and this, says Detresfa in The Warzone, suggests more fighter aircraft could be based there at some point. Currently, there are only four J-11 (Flanker) twin-engined jets stationed at the base.
In addition, satellite imagery, says the report, also shows surface-to-air missiles have been installed at Ngari Gunsa and at other border locations in the region. At Lhasa, a helicopter area has also been built. The Chinese army has put a heavy emphasis on helicopter facilities in the region and also other parts of the country.
Does the Chinese build-up both on the ground and in the air mean India should view China as an implacable foe that might launch hostilities at any time? "At a meta-strategic level, they don't want conflict," says Manoj Kewalramani, fellow of China Studies at Takshashila Institution. "But we should not be comfortable assuming they will not do anything here," he adds. "They know that fighting with India will be costlier than in the 1960s. But they are consolidating their position against India."
The upgrading of the aviation network is also part of a wider effort to improve both the military and civilian infrastructure in Tibet and Xinjiang.
Road and rail links are being built at a high speed and telecom and electricity connections brought almost to border villages. These have a military purpose but they are part of Xi Jinping's strategy as well to bring a moderate degree of prosperity to the most far-flung villages on the 4,000-km-long border with India and Bhutan. This plan was outlined in a 2017 document, Plan of Tibet Autonomous Region on the Construction of Villages of Moderate Prosperity in Border Areas (2017-2020). Under this plan. new border villages were to be built and older ones would get better water, electricity, roads and telecommunication services as well as education and healthcare facilities.
At one level, the new airports, surface defences and the rail-and-road links serve the purpose of bringing progress to the remotest regions but there are obvious military angles too. The Chinese have also ramped up military facilities at Golmud, the third-largest city on the Tibetan Plateau, which will now become an important staging post for troops moving to the Ladakh LAC.
Analysts are divided about how big a threat the new aviation infrastructure represents to India. For a start, many of the new airbases being built or ramped up are at high altitudes where planes cannot function with maximum efficiency. Chengdu Bangda, for instance, is at a height of 14,219ft and Ngari Gunsa is at 14,022ft. Even Lhasa airport, which is 60km from the city, is at 11,710ft.
By contrast, the Indian Air Force operates from Ambala which is in the plains but which is 422km from Pangong Tso. One piece of speculation is the Chinese build-up is to counter the IAF's new Rafale based at Ambala.
Whatever the reasons behind China's stepped-up presence in the region and its effectiveness, India's military infrastructure asymmetry with its northern neighbour is real and New Delhi will have to figure out how to deal with it. Says The Warzone: "As Chinese capabilities in this area grow, it will become more difficult for India or other neighbouring nations to attempt to match its pace and maintain anything resembling a balance of power in the region."