Kashmir University (KU) Semester Exams 2021 Postponed for UG / PG Students due to COVID-19 Pandemic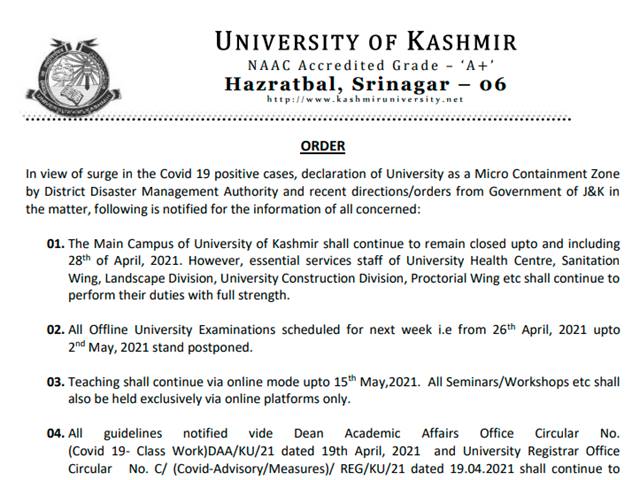 Kashmir University Semester Exams 2021: As per the latest update, the University of Kashmir (KU) has decided to postpone the Kashmir University Semester Exams 2021 for both undergraduate and postgraduate students in the view of the COVID-19 pandemic situation and the rising number of cases. With the exam postponed to a later date, many students were concerned about the new or revised dates for KU Semester Exams 2021. However, the varsity has announced that new date for the semester exams would be announced later on, after conducting a thorough reviewing of the prevailing situation.
KU Semester Exam 2021 Postponed – Read Detailed Notification Here
Official Notification Released
To avoid any confusion among the students and to avoid any changes of misinformation around the semester examination, the varsity has announced the decision via an official circular. The official circular in this regards reads ""It is notified for the information of all stakeholders that all the Kashmir University Offline PG and UG Examinations scheduled till May 2, 2021, are now postponed, given the prevailing circumstances. The fresh dates of postponed examinations will be notified later on". Moreover, the circular also mentioned that while exams have been postponed for now, the online classes being run by the varsity would continue as per the previous schedule.
Main Campus Closed till 28th May
In addition to this, the varsity has also decided to shut down the main campus completely until 28th April 2021. The decision to postpone the semester exams as well as closing down the main campus of the university was taken by the varsity's advisory committee. The university has also said that any new update or news about the Kashmir University's exam would be provided formally only through official channels i.e. via university's website or official social media accounts. Therefore, students are advised to keep visiting kashmiruniversity.net website from time-to-time, in order to stay updated about the latest developments.